Rare Super Blue Blood Moon lights up UAE skies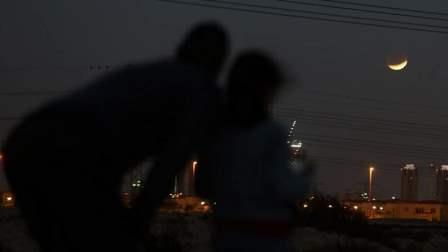 Thick clouds on the horizon made it impossible for Dubai residents to fully enjoy the 'super blue blood moon' on Wednesday but they were proud to go out in the open and brave the cold wind to witness a rare triple celestial treat.
The Musaliar family drove for 45 kms all the way from Al Barsha 1 and arrived at Dubai Astronomy Group observatory in Mushrif Park before 5pm to get the best view to see simultaneously an extra big 'super moon', a blue moon, and a total lunar eclipse on a single night
Also read: 5 things to know about Super Blood Blue Moon
"The last time this rare celestial occurrence happened was more than 50 years ago. Of course I'm very proud to be part this historical phenomenon"14-year old Manal Musaliar told Khaleej Times.
"Unfortunately we did not see the full lunar eclipse because of the thick clouds but at least we saw the super moon. This is the second extra huge moon which showed up this month, therefore making it a super blue moon," added the Grade 9 student at Gems Modern Academy Dubai.
Also read: 5 best spots to watch Super Blue Blood Moon in UAE
Her father, Harees, and seven-year old brother, Mazen, were equally impressed and enjoyed the huge crowd which turned up at Mushrif National Park, despite the cold wind.
"It was beautiful and amazing," Hassan Ahmad Al Hariri, CEO of Dubai Astronomy Group said. "Though it was a working day, people of all ages - parents and their kids - came and exceeded our expectations of hosting around 500 people."
Al Hariri said the thick cloud on the horizon made it impossible for people in Dubai to catch the full lunar eclipse which happened at around 6.03pm (UAE time).
"The best view was on the country's east coast, the sea side of Fujairah. I got a report that the full lunar eclipse, which lasted for around three minutes, was seen in full view from there," Al Hariri told Khaleej Times.
At around 6.25pm, the clouds dissipated and the moon showed up with partial lunar eclipse. At this time, Indian mum, Pooja, carried her four year old son, Ekaagra, to get a good view of the sky.
Even Sheikh Hamdan bin Mohammed bin Rashid Al Maktoum, Crown Prince of Dubai was excited about seeing the rare moon and posted this stunning picture of it behind the iconic Burj Khalifa.
And here's a precious moment of His Highness Sheikh Mohammed bin Rashid Al Maktoum, UAE Vice President and Prime Minister and Ruler of Dubai, watching tonight's Super Blue Blood Moon with his youngest children, daughter Sheikha Al Jalila and son Zayed.
The picture was posted on Instagram by the Ruler's wife, Princess Haya bint Al Hussein:
Students in awe of rare moon
Next to the mother and son were a group of students from Gulf Modern School. The assistant head student, Fayaz Ebinu Safarullah, said being exposed to events like this (moon-watching) makes them more interested in studying science and astronomy. "What we've experienced here is education beyond the four corners of our school and it's really inspiring," he said.
"The full blood moon looked like Mars and I made a wish. It was my first time to see it and it was very nice," 12-year-old Filipino student Maya said.
Meanwhile, visiting tourist and photo enthusiast Rohit Hariharan, said he got many good photos of the Dubai skyline showing the super moon. Unfortunately, I was not able to capture the full lunar eclipse but I have another opportunity to see it in July."
Watch a timelapse of the moon rising by the national met department: