UK poll shock pummels pound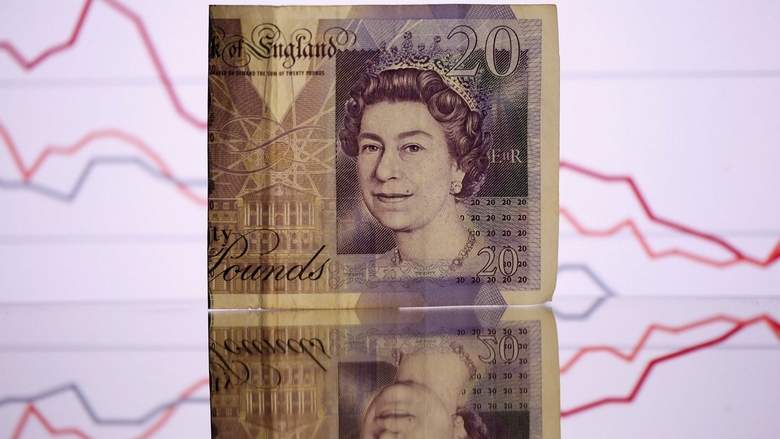 Britain's pound tumbled as much as 2.5 per cent on Friday, lifting the country's main FTSE share index, following an election that denied any party a majority in parliament and fomented political chaos just days before Brexit talks begin.
With no clear winner emerging from Thursday's election, Prime Minister Theresa May signalled she would fight on and try to form a government, despite having failed to win the stronger mandate she had sought to conduct exit talks with the rest of the European Union. The surprise result raised questions about how Britain will advance with its plan to leave the EU, and whether any party can form a stable government, It sent the pound to eight-week lows against the dollar and its lowest levels in seven months versus the euro.
But having slid to as low as $1.2636 in early European trade, sterling was at $1.2740, apparently taking some support from news that Northern Ireland's Democratic Unionist Party will back May's Conservatives in forming a government. That still left sterling down 1.7 per cent against the dollar on the day and on track for its biggest one-day fall since last June, though that move was dwarfed by an almost 8 per cent dive the day after last June's EU referendum.
But the earlier trough in sterling merely left the currency around where it had been trading before May called the election on April 18.
"The strong Brexit mandate has not been achieved, which you could argue is slightly negative for sterling in some ways, because if we're going to go ahead with Brexit you want to have a strong negotiating hand," said Altana currency fund manager Ian Gunner, in London.
"But the flip side of that is that maybe a hard Brexit is less on the table now and we go to a soft Brexit, which is sterling supportive. So there's a lot of uncertainty, but the downside for sterling in this is not completely obvious."
A hard Brexit is one on which Britain leaves the EU's single market and customs union, a matter of deep concern for many businesses.
The one-month sterling-dollar risk reversal, a measure of the balance of bets on the pound rising or falling in the next month, had touched its lowest level since September overnight, indicating a bias for further sterling weakness. But it recovered to reach one-week high.
Investors' traditional views of whether the Conservatives or the opposition Labour party would be good or bad for the pound have been muddied in this election, not least by the prospect of Brexit talks due to start on June 19.
Some banks have said a high-spending Labour government could spur economic growth and cause the Bank of England to raise interest rates more quickly.
Some also argue that the Conservatives' failure to secure a majority might result in a "softer" Brexit deal.
There was no indication in the options market, however, that investors were pricing in a softer Brexit.
"If you were going to seek protection via the options market ... you'd have to have a view on how quickly that would happen - you have to pick a maturity for your option - and that's very unclear," said Gunner.
London's main FTSE 100 stock index, which is mainly composed of companies that largely earn in foreign currencies and therefore benefit when they rise against the pound, climbed as much as 1.3 per cent, before easing back to trade up 0.8 per cent on the day as the pound recovered a touch.
The more domestically focused FTSE 250 index, however, fell 0.3 per cent.
Housebuilders suffered and gold miners climbed as investors rushed to safety and ditched stocks more exposed to domestic instability.
Challenger banks Metro , OneSavings and Aldermore, which analysts said were most sensitive to domestic growth, fell particularly sharply. Blue-chip bank RBS also fell.
"UK equities are likely to fare better, in our view, helped by currency depreciation," said Salman Ahmed, Chief Investment Strategist at Lombard Odier Investment Managers.
"However, we believe that upside potential remains capped."
British 10-year gilt yields dipped two basis to 1.02 per cent, having earlier fallen a touch below one per cent ass investors sought the security of government bonds.
UK credit default swaps (CDS) - which reflect the cost of buying protection against a government defaulting - were trading around their highest since late April.