UAE's first double-lung transplant successful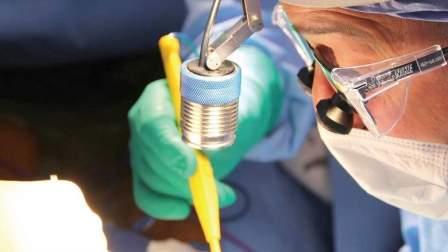 Organ transplant has taken another historical step in the UAE, with the country's very first cadaver double-lung transplant surgery successfully done on a 45-year-old expat mother of six in Abu Dhabi.
On June 10, multidisciplinary teams of surgeons at Cleveland Clinic Abu Dhabi (CCAD), performed three transplant surgeries from just one deceased donor on the same day and on three different patients, including the UAE's first double-lung transplant.
Besides, a kidney from the same donor was swiftly transported for a transplant operation at the Sheikh Khalifa Medical City (SKMC).
Dr Redha Souilamas, chair of thoracic surgery at CCAD, who led the double-lung transplant, told Khaleej Times the surgery took just over five hours to complete, after which, the patient "woke up like a new born baby, because she was finally able to breathe."
"The day after the transplant, she woke up and was looking around her with new eyes, I have never seen a patient do this. She was looking around and asking, 'where is my oxygen machine,' and we told her she doesn't need that anymore."
Dr Souilamas said the patient was suffering from idiopathic pulmonary fibrosis (IPF), a progressive disease that causes extensive scarring of the lungs, and which has no cure.
He said after 10 years of suffering from the disease, living on oxygen machines and carried on a wheelchair, the patient finally received a new chance at a normal life.
Patients are typically given just a three-to five-year survival rate after diagnosis.
"If we didn't do the surgery, the patient would have unfortunately died by this disease," added Dr Souilamas, who has performed a whopping 150 double-lung transplants in the past 10 years.
He stressed that the most difficult part was waiting for the donor, adding that "the enemy of organ transplant is the time."