UAE businesses lead digital transformation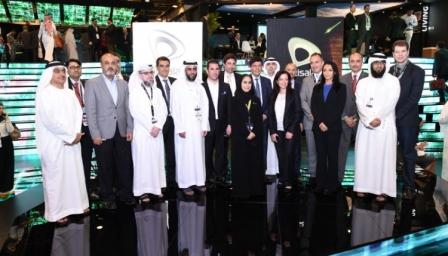 The world is changing. And whether you like it or not, if you fail to keep in step - or even be ahead - of the digital curve, you're bound to miss out on several opportunities.
So said speakers at DigiTrans 2017 - The Digital Transformation Forum, organised by MIT Sloan Management Review GCC which attracted over 130 senior C-suite executives. Yvolv, a joint venture between Alibaba Cloud and Meeras, is the forum's lead sponsor, while SAP, Hinduja Global Solutions and Comarch are gold sponsors.
Digital transformation presents a huge opportunity for companies and economies in the Middle East. From 2017-21, it is poised to generate $16.9 billion in extra revenue annually for firms in the region.
The figures get even bigger from there: this could also result in additional $17.3 billion in savings for companies, allowing a rise in revenues, and McKinsey adds that it would also add $95 billion yearly to the Middle East's gross domestic product by 2020.
And among the most prepared companies in the region - the world, even - are those in the UAE. MIT Sloan Management Review says that 73 per cent of UAE businesses are ready to invest in digital transformation, which in turn is bound to result in a $14 billion economic boost to the nation's economy by 2020 and $5 billion in savings for the UAE government once a full digital transformation has been achieved. In the ICT sector alone, spending is seen to amount to $6.2 billion in 2017.
Global investments in digital transformation, meanwhile, are poised to hit almost $431 billion by 2021. And not only has this disrupted traditional business processes; it has also been reshaping the global economy, creating a new breed of innovators, visionaries and enablers that are making organisations and people more future-ready.
"[The digital transformation Dubai is undergoing right now] is probably the most exciting times in the entire world to be at," Sandeep Chouhan, executive vice-president for technology and operations at Mashreq, told KT.
"The leadership and thought leadership that we are seeing from the Dubai government is unique, and it is ahead of almost all governments in the world. That is creating an environment of tremendous encouragement and making businesses and us at banking to take a very bold view in adopting and reshaping our strategy, business model and workforce to embrace this digital transformation, to remain a world-class country and a world-class organisation," added Chouhan, who was also a speaker at the event.
Accenture says that on average, 94 per cent of GCC firms are already experimenting with mobile technologies to engage with customers, employees or business partners. This is very evident in the fact that companies in the region are scrambling to build up their infrastructure to make their services smarter and be more available to its target audiences.
"The challenge is being able to adapt and being agile," Clinton O'Leary, chief commercial officer at Yvolv, said at a panel discussion.
"What is going to be that next transformative technology that can engage customers even more? The only way to do it is to get it. And if you already have it, advance it further."
About 60 per cent of GCC firms believe big data and analytics are important. These organisations are investing heavily in such platforms as they prepare for the future and to better understand their customers in order to provide the best services in a secure and more efficient manner.
"The sooner you can rescale your organisation with technological appreciation, the sooner your ability to. adopt these technologies in a very meaningful way," Chouhan said at the discussion.
Several top-level figures from various industries attended DigiTrans, who were not only keen to learn from the event, but also to personally witness for themselves a place that is a leader in digital transformation - the UAE, and most especially Dubai in particular.
"You need to understand your segment in the market, why are you putting or using this technology," Ahmed Alrefaei, chief operation officer at Al Masraf, said at the discussion.
"If you know your customer, then you have a strategy [that is working]."
Dubai has always been a leader in using innovation to propell its technology to new heights, thanks to the initiatives of His Highness Sheikh Mohammed bin Rashid Al Maktoum, Vice-President and Prime Minister of the UAE, Ruler of Dubai and Minister of Defence.
And all its moves are being noticed.
"Dubai is really going ahead of the curve. it's a pleasure to be here to be comparing what Dubai is doing to what we are doing [in Brazil], Adriana Knackfuss, vice-president of digital transformation at The Coca-Cola Company, told KT.
"We cannot just go with the flow; Coca-Cola is a company that has been around for 130 years and we were very innovative in many ways during that time. The question that's on the table now is what is being a leader in [digital transformation] right now."
She added an interesting point: their main competitors aren't their peers - not even the likes of PepsiCo.
Rather, it's startups.
"It's those two guys in a garage," Brazil-based Knackfuss says, referring to a symbolic way of how startups begin. "We cannot operate in the same way anymore. It requires a deep re-thinking in terms how do we work. the question is how do we change we think, the mindset and the way we work to keep up with the changes."
And for further proof of how Dubai has been so impressive, Knackfuss made special mention of another head-turner in the emirate: flying Hoverbike, which was showcased by Dubai Police at this month's Gitex Technology Week.
"It was just, 'wow'," she quipped.
"We are looking for more data centres," Ahmed Kajoor, head of IT at Dubai Municipality, said at the discussion.
"We are analysing these information [as] we need to adapt to the rapid pace of change. Our role is not being a custodian - it is to lead."
And failing to keep abreast has very dire consequences.
"The government is a driving force [for digital transformation]. We encourage training and new roles, and keep educating people by exposing them to new experiences; push, and they will adapt," Kajoor stressed.
"Otherwise, we could become dinosaurs."