Top 10 activities for UAE children this summer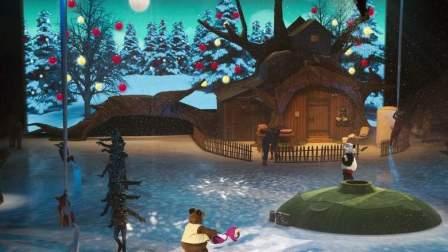 The number of expats traveling during the school holidays have significantly decreased this year. Although the current hot climate means there are less activities to keep kids entertained during the long break, these top 10 hidden treasures and programmes will surely help parents feel at ease.
Ministry of Culture 'Cultural Summer' programme
Ministry of Culture centers across the UAE
July - August 10
The 'Cultural Summer' is a national programme, and a fantastic and free opportunity for youngster to broaden their skills and talents. The initiative provides an opportunity to enhance one's knowledge and skills in the fields of art, music, theater and creative writing.
Endless varieties of engaging workshops are offered for children across the nation this summer, with two daily sessions, 9am-1pm and 5pm-7.30pm, held across the cultural centers in the UAE.
The initiative, which has so far witnessed tremendous success, with thousands of participants, is organised by the Ministry of Culture and Knowledge Development, held under the patronage of Sheikh Nahyan bin Mubarak Al Nahyan, the Minister of Culture and Knowledge Development.
Summer Camp
Warehouse421, Abu Dhabi
July 16 - August 10
A curated series of workshops and activities designed for all ages. The eclectic four-week programme includes a wide range of interactive workshops and events, spanning art, design, music, lifestyle, healthy living, board games and film.
Talents around the World
Bawadi Mall, Al Ain
July 9 - August 31
Demonstrating a variety of superb talents across a wide number of dance genres, 'Talents around the World' will reveal a host of performances throughout July and August at Bawadi Mall.
The event will include competition-topping performances from around the world, such as acrobatic stunts, Irish tap dancing, popping and locking, which will surely keep the kids entertained during their summer holidays.
FIFA Club World Cup Mobile Roadshows
Bawadi Mall, Al Ain
August 3 - August 5
The Mobile Roadshows, is a family friendly show, which is an anticipation for the FIFA Club World Cup 2017, that will witness teams from around the world competing for the title of world club champions. The Mobile Roadshows will provide a range of engaging activities and competitions for members of all ages, especially football lovers.
Tom and Jerry Live
Dalma Mall and Bawadi Mall
July 20 - August 20
Watch Tom and Jerry live on stage in Abu Dhabi and Al Ain as they embark on a crazy adventure to exotic locations and a forgotten time.
Let the music take you back to the foot-thumping Charleston, Lindy hop, jazz era of the 40s and 50s, as Tom enlists the help of an old rival, putting his Jerry-chasing days behind him in the name of romance and love.
Sesame Street
Yas Mall, Abu Dhabi
August 3 - August 5
A brand new 'Iftah Yah Sim Sim,' will surely keep youngsters entertained. Children will also have the chance to meet and interact with the characters, honing in their creativity with arts and crafts workshops.
Teenage Mutant Ninja Turtles
Bawadi Mall
August 9 - August 12
The Italian Renaissance artist-named, New York-based crime fighting turtles have come to Abu Dhabi. Michelangelo, Donatello, Raphael, and Leonardo, will embark on an epic adventure that includes an exciting line-up of games and competitions.
Winter Wonderland
Zayed Sports City Ice Rink, Abu Dhabi
July 28 - July 29
Masha and the Bear, inspired by a Russian fairy tale, glides on ice in a spectacular performance featuring more than 30 ice-skaters, dancers and acrobats. Animations, theatre, music, and figure-skating will come together to immerse all youngsters in this fantasy world.
Take Off World Tour
Al Raha Beach Theater
August 3 - August 5
The Saudi Arabian master illusionist, Ahmed El Bayed, who has astonished millions for more than 14 years, has kicked off his 'Take Off World Tour,' and fans can watch his live performance this August.
Salim and Suleiman: 'Namaste Abu Dhabi'
Emirates Palace
August 18
The show promises a magical journey of Bollywood melodies, along with a troupe of 20 musicians, singers, dancers and technicians.
Salim and Suleiman are two of India's most respected and prolific composers and performers, having composed and produced music for over 100 Bollywood films.
The brothers have also built a name for themselves on the international music scene, with hit collaborations with Lady Gaga and Enrique Iglesias.