The Singing Dentist has some advice for UAE residents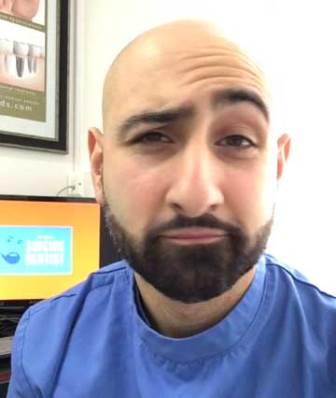 Dubai: He's attempting the impossible – to stop children from being afraid of going to the dentist!
Dr Milad Shadrooh, known on social media as The Singing Dentist, rose to fame with his viral music videos, in which he parodies popular songs and gives them a dental twist.
Talking about children who visit him in his clinic in Basingstoke, UK, Dr Shadrooh said: "They're excited. I am pleased that it's changing the perception of dentistry a little bit. The key with children is, if you get them in early, before they have problems with their teeth… then the dentist's will never be a bad place for them."
From 'Shape of You' by Ed Sheeran, to 'Happy' by Pharrell Williams, Dr Shadrooh has experimented with many new-age songs, and writes his own lyrics.
What started out as a joke video that he sent to friends has ended up causing him to become a social media star, with thousands of followers on Facebook and millions of views on YouTube.
Dr Shadrooh was in Dubai, participating in the International Dental Conference and Arab Dental Exhibition (AEEDC) this week, where dental professionals, specialists in the oral health industry and students are meeting to discuss the latest advancements in dental materials, equipment and methodology.
For anyone who's looking to better their dental hygiene, he has one word of advice on foods to avoid.
He said: "Sugar is the main problem, because it's what causes tooth decay. Sticky sugars are often in things that you think are healthy… like raisins. They stick on the teeth and hang around a long time. So reducing the frequency of sugar is what's important."
In 2014, the World Health Organisation (WHO) released guidelines recommending that only five per cent of a person's total daily calories should come from sugar, though they acknowledged that such a drastic cut might not be realistic.
Dr Shadrooh said a good way to reduce the impact of sugar on your teeth is to rinse your mouth after eating, rather than brushing your teeth.
He said: "When you eat, a little bit of acid is released by the bacteria and that's what causes the holes in your teeth. If you brush straight away, you actually brush that acid in. You have to wait at least 30 minutes after eating, if you want to brush. So it's always better to rinse!"
Watch Gulf News' Facebook Live interview with Dr Shadrooh for more tips on better dental hygiene.