Sri Lanka win series against Bangladesh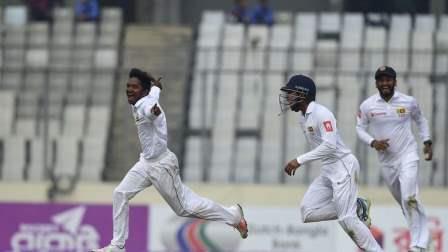 Sri Lanka off-spinner Akila Dananjaya took eight wickets on his debut, including a maiden five-wicket haul in the second innings, to help his side to a 215-run win against Bangladesh in the second Test on Saturday and a 1-0 series win.
Chasing 339 for victory, Bangladesh were all out for 123 in their second innings in the second session of the third day of the match with Dananjaya taking 5-24 in just five overs.
Dananjaya had taken 3-20 in the first innings and ended up with the best figures for a Sri Lankan debutant.
Veteran left-arm spinner Rangana Herath also took 4-49 by eroding Bangladesh's top half as the hosts capitulated after also being all out for 110 in their first innings.
Sri Lanka scored 222 in their first innings and were all out for 226 earlier on Saturday with Roshen Silva scoring half-centuries in both innings.
The first Test of the two-match series was drawn and Sri Lanka skipper Dinesh Chandimal was surprised that the hosts had gone into the deciding match at the Shere Bangla National Stadium on a turning track.
"This was a really good series. The first game was a nightmare for the bowlers and this one was a nightmare for the batters," Chandimal said at the presentation.
"The guys executed our game plans really well out in the middle. After the first game we thought the second pitch might be a turning wicket. We were surprised, because we have all the experienced spinners."
Silva followed up his 56 in the first innings with an unbeaten 70 in the second and was adjudged the player-of-the-match and the series.
"I thought this wicket was difficult so I just wanted to keep it simple - I just played my normal game," said the 29-year-old, who scored his maiden hundred in the first Test in Chittagong.
"I think one of the strengths we have is the guys in the lower order never throw away their wickets. Even 20-30 runs is very valuable on this wicket." Bangladesh skipper Mahmudullah blamed his side's batting in the first innings for the loss.
"Feeling really disappointed because we knew the pitch would get us a result," he said. "In this sort of a wicket you should cash in on the first innings. "Their bowlers did the job really well, keeping the pressure on us every time we came out. Our bowlers (only) did well in patches."
SCOREBOARD
Sri Lanka first Innings: 222
Bangladesh first innings: 110
Sri Lanka second innings (200-8 overnight)
Karunaratne c Kayes b Mehedi 32
Mendis lbw b Razzak 7
De Silva b Taijul 28
Gunathilaka lbw b Mustafizur 17
Chandimal lbw b Mehedi 30
Silva not out 70
Dickwella c Mahmudullah b Taijul 10
Perera c Liton b Mustafizur 7
Dananjaya c Liton b Mustafizur 0
Lakmal b Taijul 21
Herath lbw b Taijul 0
Extras (lb 4) 4
Total (all out; 73.5 overs) 226
Fall of wickets: 1-19 2-53, 3-80, 4-92, 5-143, 6-170, 7-178, 8-178, 9-226, 10-226
Bowling: Razzak 17-2-60-1, Mustafizur 17-3-49-3, Taijul 19.5-2-76-4, Mehedi 20-5-37-2
Bangladesh second innings
Tamim lbw b Perera 2
Imrul c Dickwella b Herath 17
Mominul c Dickwella b Herath 33
Mushfiqur st Dickwella b Herath 25
Liton c Mendis b Dananjaya 12
Mahmudullah c Karunaratne b Dananjaya 6
Sabbir c Mendis b Dananjaya 1
Mehedi c Dickwella b Dananjaya 7
Abdur st Dickwella b Dananjaya 2
Taijul c Gunathilaka b Herath 6
Mustafizur not out 5
Extras (b6, lb 1) 7
Total (all out; 29.3 overs) 123
Fall of wickets: 1-3, 2-49, 3-64, 4-78, 5-100, 6-102, 7-102, 8-104, 9-113, 10-123
Bowling: Lakmal 3-0-11-0, Perera 10-0-32-1, Herath 11.3-1-49-4, Dananjaya 5-1-24-5
Result: Sri Lanka won by 215 runs