Sheikh Mohammed visits Dubai Safari Park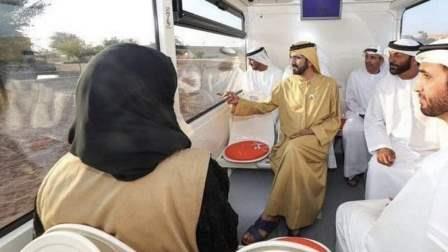 His Highness Sheikh Mohammed bin Rashid Al Maktoum, Vice-President and Prime Minister of the UAE and Ruler of Dubai on Sunday visited the Dubai Safari Park- an edutainment development sprawling over 12 million square feet at a cost of around Dh1.25 billion.
His Highness Sheikh Mohammed began his tour by visiting the monumental model of the park, accompanied by Sheikh Ahmed bin Saeed Al Maktoum, Chairman of Dubai Civil Aviation Authority and Chief Executive of Emirates Group, and Sheikh Ahmed bin Mohammed bin Rashid Al Maktoum, Chairman of Mohammed bin Rashid Al Maktoum Knowledge Foundation.
The region's one-of-a-kind development also includes a Valley Zone adjacent to the African village. It provides the visitors with a safe and comfortable atmosphere and gives them the opportunity to enjoy a pleasant family picnic on the green yards along the animals living in the valley, which stands as a large edutainment centre for visitors, especially school students and families, to learn about wildlife and its diversity.
The Arabian Village is considered a moderate desert environment embracing different species of Arabian oaks, deer and birds. All the components of life for these animals and birds are provided from sand, grass, water, lakes, artificial scales, air-conditioned umbrellas and others.
At the end of his tour, Sheikh Mohammed expressed his satisfaction with the completion of this educational cultural tourism project in a short period of five-six years. He commended the great efforts of the Dubai Municipality and its partners to implement this promising national project which is not serving families in the UAE only, but also tourists and visitors from different world countries.
The park features integrated services and facilities for People of Determination, an area dedicated for buying souvenirs, and classes dedicated for school students, in addition to restaurants and rest areas, which allow visitors to take short breaks in a comfortable and quiet family ambience