Sheikh Mohammed is the most followed Arab leader on Twitter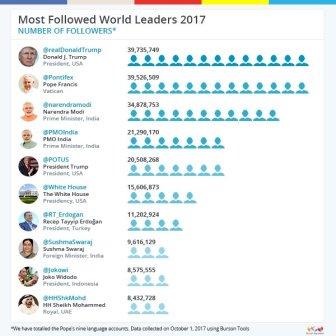 Social media has changed the way global leaders communicate with their citizens and the world at large. It has opened instant channels of communication, with Facebook, Twitter and Instagram providing the opportunity of 'live' interaction with the leaders.
Among Arab leaders, King Abdullah II of Jordan is the latest to join Twitter, and was welcomed by Queen Raina, who also became his first follower.
His Highness Sheikh Mohammed bin Rashid Al Maktoum, Vice-President and Prime Minister of the UAE, and Ruler of Dubai, also welcomed him to the world of Twitter.
We went ahead and checked the Twitter handles of Arab leaders with the most followers.
According to Twiplomacy, Sheikh Mohammed is one of the most followed leaders around the world in 2017. It is also worth noting that he is the only Arab leader in the top 10 list. The Dubai Ruler is joined by the US President Donald Trump, Indian Prime Minister Narendra Modi, Turkish President Recep Tayyip Erdogan and Indonesian President Joko Widodo.
1. His Highness Sheikh Mohammed bin Rashid Al Maktoum
Vice-President and Prime Minister of the UAE, and Ruler of Dubai
Twitter handle: @HHShkMohd
Number of followers: 8.4 million
Joined in June 2009
2. Queen Rania
Queen of Jordan
Twitter handle: @QueenRania
Number of followers: 8.1 million
Joined in April 2009
3. King Salman bin Abdulaziz Al Saud of Saudi Arabia
Custodian of the Two Holy Mosques
Twitter handle: @KingSalman
Number of followers: 6.63 million
Joined in January 2013
4. Sheikh Abdullah bin Zayed bin Sultan Al Nahyan
Minister of Foreign Affairs and International Cooperation of UAE
Twitter handle: @ABZayed
Number of followers: 4.11 million
Joined in October 2011
5. Sheikh Hamdan bin Mohammed bin Rashid Al Maktoum
Crown Prince of Dubai
Twitter handle: @HamdanMohammed
Number of followers: 3 million
Joined in March 2010
6. Sheikh Mohamed bin Zayed Al Nahyan
Crown Prince of Abu Dhabi and Deputy Supreme Commander of the UAE
Armed Forces
Twitter handle: @MohamedBinZayed
Number of followers: 1.59 million
Joined in January 2012
7. Sheikh Saif bin Zayed Al Nahyan
Deputy Prime Minister and Minister of Interior, UAE
Twitter handle: @SaifBZayed
Number of followers: 1.62 million
Joined in February 2014
8. Abdel Fattah el-Sisi
President of Egypt
Twitter handle: @AlsisiOfficial
Number of followers: 1.57 million
Joined in March 2014
9. Saad Hariri
Lebanese Prime Minister
Twitter handle: @saadhariri
Number of followers: 1.1 million
Joined in October 2009
10. Sheikh Khalifa bin Zayed bin Sultan Al Nahyan
President of the United Arab Emirates
Twitter handle: @KBZayed
Number of followers: 1.23 million
Joined in June 2012