Sheikh Mohammed attends Endurance Festival in Italy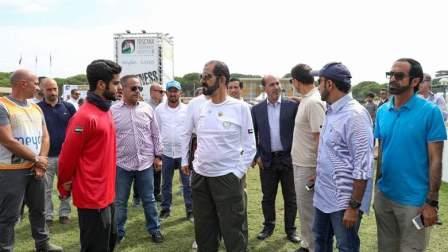 His Highness Sheikh Mohammed bin Rashid Al Maktoum, Vice-President and Prime Minister of the UAE and Ruler of Dubai, today attended the final day of the Mohammed bin Rashid Endurance Festival, which was held in Tuscany, Italy, with the participation of more than 500 riders from various countries.
UAE riders dominated the main 120-km race, with rider Saeed Al Kheyari coming in first for M7 Stables, whereas F3 Stables' rider Salem Al Owaisi came in 2nd, leaving the third place to M7's Salem Malhouf.
An important stage of the Europe-based endurance races, Sheikh Mohammed followed part of the race and checked on the preparations of UAE team ahead of the World Endurance Cup, which will be held in the United States in September.
The Festival takes place as part of the Toscana Endurance Lifestyle 2018, supported and sponsored by Meydan at San Rossore Racecourse.