Saudi Arabia's first cinema to open on April 18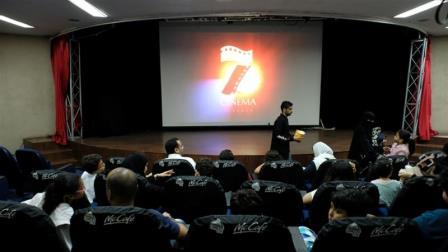 Saudi Arabia's first cinema in over three decades will open on April 18 in Riyadh, authorities said Wednesday, after a ban was lifted last year as part of a far-reaching liberalisation drive.
AMC Entertainment has been granted the first licence to operate cinemas, with Saudi state media saying the US giant is expected to open 40 cinemas across 15 Saudi cities over the next five years.
"AMC plans to open the Kingdom's first cinema theatre in Riyadh on April 18," the information ministry's Centre for International Communication said in a statement.
The news comes after AMC Entertainment signed a non-binding agreement in December with Saudi Arabia's vast Public Investment Fund to build and operate cinemas across the Kingdom.
"The granting of the first licence marks the opening of very significant opportunities for exhibitors," Information Minister Awwad Alawwad was quoted as saying in the statement.
"The Saudi market is very large, with the majority of the population... eager to watch their favourite films here at home."
International theatre chains have long eyed the kingdom as the Middle East's last untapped mass market of more than 30 million people, the majority of whom are under 25.
The move to reopen cinemas is part of a modernisation drive by Crown Prince Mohammed bin Salman, who is seeking to balance unpopular subsidy cuts in an era of low oil prices with more entertainment options - despite opposition from religious hardliners.
The Kingdom has embarked on a wide-ranging programme of social reforms that includes boosting sports and entertainment and allowing women to drive from June.
In February, Saudi Arabia's General Entertainment Authority (GEA) announced it will stage more than 5,000 festivals and concerts in 2018, double the number of last year, and pump $64 billion in the sector in the coming decade.
The reform stems partly from an economic motive to boost domestic spending on entertainment as the kingdom reels from an oil slump since 2014.