Samsung wants you to talk to your fridge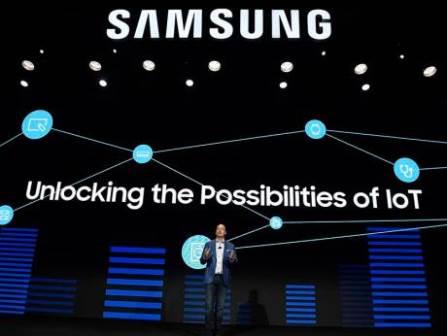 Las Vegas: Rather than using its press conference on the first day of CES, the largest consumer electronics show in the world, to announce any major new products, Samsung instead set forth its vision for a truly interconnected, intelligent home.
Entering the fray against tough competitors like Google and Amazon, Samsung said on Monday afternoon that it would be putting Bixby, its virtual assistant currently available on its smartphones, in to its other devices, including fridges, washing machines, and TVs
This would give the household appliances the ability to learn, interact, and streamline users' lives, they said.
Samsung's head of consumer electronics HS Kim announced the firm's new "integrated IoT strategy," consisting of three core elements: Seamless connectivity between any Samsung device through a single path, a single cloud to manage the devices, and intelligence "powered by your voice that allows your device to work smart and better for you."
What this would mean, said Joe Stinziano, executive vice president of consumer electronics, was that users would be able to talk to their home appliances, such as their fridge, which would also be able to recommend recipes based on the ingredients inside it, or suggest groceries that are running low.
And being interconnected, he added, meant that users would be able to check the contents of their fridge, or the status of their washing, from their mobile phone or TV.
The South Korean giant is really throwing its weight behind this vision: Samsung said it had invested $16 billion in research and development in the past year, employing over 65,000 engineers and designers to help it achieve its master plan.
That investment is beginning to bear fruit, with over half a billion interconnected devices sold over the last 12 months, according to Tim Baxter, Samsung's president and chief exectuvie.
But a key step in encouraging the mass adoption of interconnected and intelligent household appliances was the consolidation of the software behind them, argued Stinziano.
As a result, Samsung announced on Monday its SmartThings app, which will funnel its many different IoT apps currently used across its many devices into a single platform, set to launch in the spring of 2018.
By 2020, the firm says all of Samsung's devices will be compatible with the Open Connectivity Foundation and the SmartThings cloud, which it says will be the "backbone of our connected system."
Also at the press conference, Samsung announced two new devices, including the Notebook 9 Pen, a lightweight laptop notebook with a 360-degree rotating hinge and a stylus similar to the one included with the popular Note series, and Samsung's Flip, a 55 inch digital, interactive whiteboard for use in the workplace.
The Flip will retail for approximately $2700, and begin shipping at the end of this month.
Finally, Samsung continued its tradition of launching enormous TVs at CES in Las Vegas, this year announcing a 146-inch model with micro-LED technology.
"This is the future of television, and it's going to make a significant impact on our industry," Samsung's HS Kim told the audience.