RTA to turn off streetlights during Earth Hour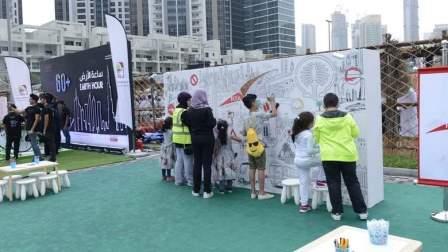 Dubai's Roads and Transport Authority (RTA) will turn off at least 1,433 streetlights along Business St., Al Saada St., Boulevard St. (Burj Khalifa) and Al Mamzar Beach Street from 8.30pm until 9.30 on Saturday in solidarity with the global event Earth Hour celebrated every year on March 24.
This year's event is held under the theme "Connect2Earth" under the auspices of the Dubai Supreme Council of Energy and in conjunction with the Dubai Electricity and Water Authority (Dewa). The RTA says that celebrating the event is part of its keenness to play an active role in achieving sustainable development in Dubai, and raise the profile of the Emirate in environmental sustainability and energy saving.
Nasir Abu Shehab, CEO of Strategy and Corporate Governance Sector cum Chair of Energy and Green Economy Committee at the RTA, said: "The RTA has charted out a plan for this year's Earth Hour events, which will be held today from 08:30 pm to 09:30 pm.
Activities will also include local roads opposite to the sea at Jumeirah; which will save about 683.7 kilowatts.
"As part of the Marina Promenade celebrations at the Business Bay, the RTA will run several activities including children games and contests, hydrogen-powered taxi, and a model of the bus-washing water treatment plant. Two buses will be deployed to lift participants from the Business Bay MS to the site of the event," he added.
Lights and some air-conditioners will also be turned off at RTA Head Office, Main Customers Happiness Centre at Umm Al Ramool, Public Transport building in addition to Al Rawiyya and Al Khawaneej stations, and Jebel Ali Bus Depot. Lights will also be switched off on the 5th floor of the Parking Terminal of Rashidiya MS, premises of the Dubai Taxi Corporation and employees accommodation.
Several Metro Stations will switch to the maintenance mode, and some escalators at metro stations will cease operation. The overall saving resulting from the switching off streetlights and facilities of the RTA is expected to be in the order of 10,000 kilowatts in one hour only.