Pakistani expat retires from Dubai Municipality after 32 years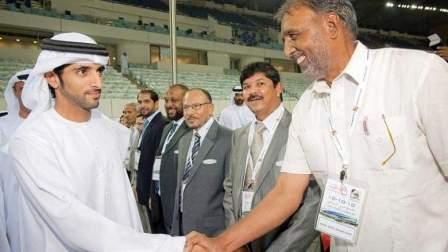 It was Saeed Hayat's first time to travel by air when he arrived in UAE from Pakistan in 1975.
There were no street names and the popular World Trade Centre was yet to be constructed later in 1978 as the tallest standing building at the time. Few public transport buses helped people move around the city that had no big shopping malls and only two public parks for residents to enjoy.
Now at the age of 69, Hayat is bidding farewell to the city that blossomed into a cosmopolitan life that now talks space, robots and innovation.
"I came to Dubai on a 2-year-contract, and now 42 years later I can't be more proud for taking part and witnessing firsthand the growth of the city within the shortest time span," said Hayat, who arrived to Dubai at the age of 25.
Retiring as a Senior Assistant Building Network Drainage Engineer in the municipality's General Projects Department, Hayat took part in designing the sewage system of Dubai's major landmarks including Dubai Frame and Dubai Safari - scheduled to launch next month - in addition to Mohammed bin Rashid Library, Quran Park and Hamdan Sports Complex.
"Hamdan Sports Complex was my first achievement," he recalled.
Hayat had joined the municipality in 1985 as a drainage building inspector before moving to the General Projects Department in 2007. He was initially in charge of checking building drainage connections in Deira .
Through his position, he said he was able to introduce specifications for drainage systems in 1994 that the department still follows until today.
"There were mostly small buildings, with only about 100 big buildings in Dubai. There were few employees at the municipality when I first joined," said Hayat.
He added that his professional career with the civic body allowed him to save and invest in 10 charitable projects that continue to benefit over 200,000 villagers back home in Pakistan.
Through Al Ilm Trust, an NGO he set up in 1995, Hayat had established an orphanage, hospital, religious school for children, free medical center, girls' college and knitting training centre and a filtration plant that provides clean water to residents of Kotli Bhutta village in Sialkot district of Pakistan. Four more projects including a hospital, mosque and tree plantations are set to start next year.
"My journey in UAE has been unforgettable. My colleagues and seniors of different cultures and religions are like family to me and have supported me in many of my charitable projects," said Hayat.
Although Hayat said he visited the UK and the US to consider settling abroad, the Dubai life has drawn him back in. "In the UAE, you can practice your culture and religion freely, while living in a pool of other cultures that you learn from, which is why I didn't opt to leave."
Hayat is now ready to go back to Lahore and continue his philanthropic journey.
Marwan Abdullah, Director of General Projects Department, said "We will all miss [Hayat] as a brother in our life and as a professional, but his priceless contributions and achievements will be forever remembered."
He added, "[Hayat] was one of the dedicated employees who achieved a number of professional milestones during his career and could prove his talent, wisdom and professionalism."
Among Hayat's charitable projects in Pakistan's Kotli Bhutta
- Fatima Al Zahara religious school for children in 1999
- Women's vocational knitting training center in 2000
- Free medical center in 2000
- Allama Iqbal Girls Degree College in 2008
- Orphanage building for children in early 2017
- Free water filtration plant in 2013