Pakistan win ICC Champions Trophy 2017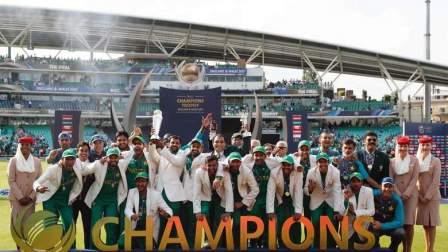 Well, what an amazing performance from the Pakistan team on the big day against their arch-rivals India. Who could have thought that this would be such a one-sided match today?
Well done, Pakistan. Sensational bowling from Mohammed Amir. The key was the three quick wickets - Rohit Sharma, Virat Kohli and Shikhar Dhawan - that Amir took at the start, killing the match as a contest after the 27-year-old Fakhar Zaman (114) played the innings of his life to help Pakistan post 338/4.
India would ponder if things would have been different had they batted first after winning the toss. But nobody expected their batsmen to collapse the way they did.
The whole of Pakistan will be celebrating tonight. Sarfraz Ahmed's young team wrote a chapter of their own today in their proud cricket history.
Congratulations to the Pakistan team. And thank you for joining us for the live updates.
Shortly after Pakistan's win, former Indian cricketer Virender Sehwag tweeted out to congratulate the men in green.
31st over: Hasan bowls. And wicket. Hasan gets the final wicket and Sarfraz takes the catch. India all out for 158. Pakistan are the champions. The world number 8 team win the final by 180 runs.
30th over: Junaid bowls. Each Pakistani fielder must be hoping to take the final catch or be responsible for a run out (India 158/9)
29th over: Wicket. Hasan Ali dismisses Ashwin. The Indian is caught behind as he gets a thin edge. Pakistan is almost there now. The last pair -Bhuvneshwar Kumar and Jasprit Bumrah - is in the middle now. (156/9)
28th over: Junaid Khan is back in the attack. Wicket. Jadeja is caught in the slip. The end is near for India. Bhuvneshwar Kumar joins Ashwin in the middle. (India 156/8)
27th over: Hasan is brought back into the attack. Wicket. Pandiya is run out after a mix up with Jadeja. Words exchanged between Jadeja and Pandya who looks furious. It really has been a very bad day for the Indian team. (India 154/7)
26th over: Fakhar bowls. Pandya hits two massive sixes as he goes to 76. It has been a highly entertaining innings from him so far. (India 152/6)
25th over: Shadab continues. A very impressive over from the leg spinner (India 137/6)
24th over: Fakhar continues. Both the batsmen have comfortably picked the singles. Jadeja is happily playing second fiddle to Pandya. (India 134/6)
23rd over: Shadab bowls and Pandya hits him for two massive sixes. Pandya is India's saving grace today. His third six of the over also brings up his half century. Well played, Pandya. He hit a boundary in the fifth ball. (India 128/6)
22nd over: Fakhar bowls. And it's a very good over. Gives away only three runs. (India 105/6)
21st over: Shadab continues. India bring up their 100 as Pandya hits a boundary, fine shot through the off side. (India 102/6)
20th over: Imad Wasim has been brought into the attack. But he gets injured after his third ball. Fakhar Zaman comes to complete the over. (India 93/6)
19th over: Shadab bowls. And Pandya hits a massive six over the long on boundary. (India 89/6)
18th over: Hasan Ali. Gives away a boundary to Pandya but overall another impressive over. Ravindra Jadeja is the new man in. (India 80/6)
17th over: Wicket. Shadab bowls this third over. And gets the wicket of Jadav. This is humiliating now for India. After being hit for two boundaries in the over, Shadab gets the perfect revenge. (India 72/6)
16th over: Hasan continues. He maintains a tight line. But Jadav turns his wrist in the final ball when Hasan finally errs in line and gets a boundary. (India 67/5)
15th over: Shadab continues as India have two new batsmen in the middle - Kedar Jadhav and Hardik Pandya. Jadav lifts the gloom with a boundary in the fifth ball. (India 62/5)
14th over: Wicket. Hasan Ali dismisses Dhoni. Imad Wasim takes the catch in the dep. It's gets embarrassing for India now. (India 55/5)
13th over: Wicket. Shadab gets Yuvraj in his first over. The leg-spinner has Yuvraj in plumb. The umpire ruled it not out. But the decision was reversed after Pakistan a review. (India 54/4).
12th over: Hasan Ali replaces Hafeez. He is the leading wicket taker in the tournament with 10 wickets. And he has been brought into the attack only now. That tells you the quality of Pakistani bowlers. He pitches his third ball short and Yuvraj pulls. But the man in deep cuts off two runs. India also bring up their 50 in this over. (India 50/3)
11th over: Amir continues. Is he bowling the best spell of life? Dhoni certainly feels it's best to play safe as he plays every ball on its merit. Maiden over. (India 47/3)
10th over: Hafeez replaces Junaid. But the off spinner was hit for three boundaries by Yuvraj Singh. (India 47/3)
9th over: Wicket. Another unplayable ball from Amir. This time Dhawan is the victim. He pitches on a good length, draws Drawan forward and but the late movement kisses the outside edge and wicketkeeper Sarfraz Ahmed takes a neat catch.S Dhawan c ?Sarfraz Ahmed b Mohammad Amir 21 (22b 4x4 0x6) SR: 95.45. Dhoni joins Yuvraj. (India 33/3).
8th over: Junaid continues. Bowls one short outside off and Dhawan hit it for a boundary. Dhawan is looking pretty good so far. Another loose ball from Junaid and Dhawan punishes him again. His fourth boundary. (India 31/2)
7th over: Amir continues. Another superb over so far. Just a leg-bye to Dhawan. He has given Yuvraj absolutely nothing to play with. This is top class bowling. (India 22/2)
6th over: Junaid Khan continues. Interesting battle. Two left-arm pacers are up against two left-handed batsmen - Dhawan and Yuvraj. Junaid pithes one short and a desperate shot from Yuvi brings him a lucky boundary. India living dangerously. (India 21/2)
5th over: Amir bowls. Dhawan gets the first boundary of the Indian innings with a fearless hook shot. He follows that up with another good shot, this time through the cover, for a second boundary. (India 16/2)
4th over: Junaid Khan continues. Yuvraj Singh an Shikhar Dhawan will be under immense pressure to rebuild the innings. Maiden over (India 7/2)
3rd over: Wicket. Amir gets the big one. Gets the big wicket of Indian captain Virat Kohli. Fakhar Zaman takes the catch at cover after Kohli gets the leading edge. Amir has been sensational so far. V Kohli c Shadab Khan b Mohammad Amir 5 (9b 0x4 0x6) SR: 55.55. This was just after Kohli was dropped by Azhar Ali in the first slip. What a start for Pakistan. (India 7/2)
2nd over: Junaid Khan, who has taken seven wickets from three matches in this tournament, bowls a very good line in his first over. Pakistan bowlers have looked much more impressive so far. (India 4/1)
1st over:Mohammed Amir bowls. WICKET. Mohammed Amir gives Pakistan a dream start. He has Indian opener Rohit Sharma plumb in front. RG Sharma lbw b Mohammad Amir 0 (3b 0x4 0x6) SR: 0.00. Indian captain Virat Kohli is the next man in and Amir welcomes him with a peach of a ball, beating him all ends up. Is it the same pitch? Kohli gets off the mark with a nice flick for two in the final ball of the first over (India 2/1)
So India need 339 to win their third Champions Trophy title. It's a very good wicket to bat on, but the pressure of a final could make the difference today.
Also, Pakistan have an impressive bowling line-up. Few quick wickets could put India under immense pressure.
But for now, let's give a big round of applause to Pakistan for coming up with a magnificent batting display.
Fakhar Zaman (114) stole the heart of a cricket-crazy nation with a fantastic hundred in what was his only fourth one-day century. Azhar Ali (59) was superb too. And good contributions from Babar Azam (46) and Mohammed Hafeez (57 not out) consolidated Pakistan's position.
50th over: Bhuvneshwar bowls his and the innings' final over. Starts well. But Hafeez celebrates his half century with a straight six in the third ball. The slow bouncer again comes to Bhuvi's rescue in the fifth ball. And he finished it with another slow bouncer and Imad Wasim manages only a single. Pakistan end their innings at 338/4 in 50 overs.
49th over: Bumrah continues. It's his 9th over. It's been a bad day in office for him. He is superb though in the first two balls here. Giving away just one run. Hafeez takes a single in the third ball. Imad Wasim misses a chance in the next ball which was a full toss! It was a no-ball. Height was the issue. He bowls another no-ball. Pakistan get a free hit. Imad misses the chance to punish a full toss in the free hit. Just got a single (Pakistan 329/4)
48th over: Bhuvneshwar bowls his 9th over. Mixes his pace well in the first two balls, giving away just two singles. He follows it up with another good low full toss. So far a good over for India. Just three runs. His fourth was almost unplayable. Hafeez somehow gets his bat to the ball and takes a single. He finished the over very well with a rare dot ball of the innings. (Pakistan 318/4)
47th over: Bumrah bowls his 8th over. Gives away three singles in the first three balls. Imad Wasim his the fourth ball with great power to the long off boundary. (Pakistan 313/3)
46th over: Bhuvneshwar bowls. Bowls short and Hafeez brings up the Pakistan 300 with a superb six. With four overs left, can they get to the magic figure of 350? (Pakistan 305/4)
45th over: Jadav bowls. And Hafees hits him over the long on boundary for his first six. Then Imad Wasim joins the party and hits Jadav for another six. Pakistan are looking incredible today. (Pakistan 294/4)
44th over. Kohli brings back Bumrah. And Hafeez welcomes him with a beautiful flick for four. Hafeez has been really impressive so far. He could be the key as Pakistan would be looking to post 350 on this wicket. (Pakistan 278/4)
43rd over: WICKET. Jadav bowls his second over. And gets the wicket of Babar. Jadav tosses the ball and Azam is beaten in the flight and Yuvraj Singh takes a good catch in the deep. Babar Azam c Yuvraj Singh b Jadhav 46 (52b 4x4 0x6) SR: 88.46. Imad Wasim is the new man in. (Pakistan 270/4)
42nd over: Bhuvneshwar continues. Hafeez gets another four when Bhuvi pitches one short. Can Hafeez get his first big score of the tournament? (Pakistan 266/3)
41st over: Jadeja bowls. And Hafeez gets off the mark with a superb shot over the bowler's head for a boundary. Jadeja then bowls one on the leg and Hafeez gets another boundary. (Pakistan 257/3)
40th over: WICKET. Bhuvneshwar is back in the attack and India's best bowler gets the third wicket for his team. He pitched one out side off and Malik went for an expansive shot, but failed to middle it. Jadav takes a good catch in the deep. Shoaib Malik c Jadhav b Kumar 12 (16b 0x4 1x6) SR: 75.00. Mohammed Hafeez joins Azam in the middle. (247/3)
39th over: Kohli turns to the part-time spin of Kedar Jadhav who got two crucial wickets against Bangladesh in the semis. But he bowled two wides on the trot in this first over today. (Pakistan 246/2)
38th over: Kohli sticks with Pandya. But Pundya starts with a short ball outside off and Azam hits him for a boundary in style. Then Pandya bowls another poor ball, this time on the leg, and Azam uses his wrist to turn it fine leg boundary. Pandya's next ball was a wide. It was India's 17th extra of the day. (Pakistan 239/2)
37th over: Jadeja is back to start a new spell. Pakistani batsmen are comfortably picking the singles. But Malik then surprises Jadeja by using his feet and hitting him over the long off boundary for his first six. (Pakistan 227/2)
36th over: Pandya continues. Azam pushes the ball to the off side and takes two. The fourth ball of the over was pitched short and Azam had no problem in pulling it for a boundary. He is beginning to open up now. (Pakistan 216/2)
35th over: Bumrah replaces the ineffective Ashwin. Azam gets his first boundary of the innings. It's been a sedate innings from Azam so far. Pakistan will need him and Malik to hit top gears. (Pakistan 209/2)
34th over: WICKET. Pandya bowls and gets the big wicket. Sends Fakhar back to the pavilion as the opener mis-times his shot and Jadeja takes a brilliant running catch. Pakistan lose their second wicket. But what a knock from Fakhar Zaman. He deservedly gets a standing ovation from the Oval crowd. Fakhar Zaman c Jadeja b Pandya 114 (106b 12x4 3x6) SR: 107.54. Shoaib Malik joins Azam in the middle and Kohli puts a slip in place. Huge relief for India.(Pakistan 202/2)
33rd over: Ashwin bowls and Fakhar gets his third six of the match with a magnificent slog-sweep over deep mid-wicket boundary. Pakistan bring up their 200 in this over. (Pakistan 200/1) 32nd over: Pandya continues. Just five runs in the over. (Pakistan 191/1)
A brilliant innings from the 27-year-old Fakhar. He was out off a no-ball and looked tentative at the start. But came back brilliantly to give Pakistan a real chance to post a massive total on the board.
31st over: Ashwin bowls and Fakhar sweeps him to the mid-wicket boundary to bring up his first one-day international century. Amazing innings from the youngster in his fourth one-day. (Pakistan 186/1)
30th over: Pandya bowls. And bowls a rare ball that beats the bat. Azam was well beaten. The right-hander has failed to rotate the strike ever since he came to the crease. Takes a single in the fifth ball and that brings up the 50 partnership. (Pakistan 179/1, Fakhar 96, Azam 8)
29th over: Ashwin bowls. And gives away only one run. A welcome relief for India. (Pakistan 176/1)
28th over: Pandya replaces Jadeja. But he also gets the same treatment from Fakhar. A top edge gives him another boundary as the balls races away to the fine leg boundary. (Pakistan 175/1)
27th over: Ashwin bowls but Fakhar continues his brilliance. Hits the Indian off spinner over long off for his second six of the match. Then in the last ball of the over, a thick inside edge gives him another four. (Pakistan 167/1)
26th over: Jadeja is not having a great time today. Fakhar just hit him over long on boundary for his first six of the match and then played a delightful cut shot for four. And then he played an inside-out shot over the short cover fielder for another boundary. Magnificent stuff from the youngster. Kohli consoles Jadeja. (Pakistan 150/1)
25th over: Ashwin continues. Just five runs for Pakistan. Azam gets off the mark. (Pakistan 134/1)
24th over: Jadeja bowls a brilliant over. Gives away only one run. There is a spring in the steps of the Indians. Game on. (Pakistan 129/1)
23rd over: WICKET: Ashwin replaces Pandya. India get the first wicket. Azhar is run out. This was just after Fakhar survived a run out appeal. India finally get the breakthrough. Azhar Ali run out 59 (71b 6x4 1x6) SR: 83.09. Babar Azam is the new batsman. (Pakistan 128/1)
22nd over: Jadeja continues. And Azhar hits his sixth boundary with a beautiful stroke through the off side. This is getting better and better for Pakistan. (Pakistan 125/0)
21st over: Pandya continues. And this is a better over from India. Pakistan got only four runs. But India need wickets. Who can get their first wicket? (Pakistan 118/0)
20th over: Jadeja bowls his third over and his third ball was short and it was cut beautifully by Fakhar for his sixth boundary. Another short ball and another boundary from the left-hander who brings up his half century. (Pakistan 114/0; Fakhar 51, Azhar 50)
19th over: Pandya bowls his third over. This is a much better over from India. Pandya gives away only three runs. (Pakistan 103/0)
18th over: Jadeja continues. Both Pakistani batsmen are now comfortable in picking those singles. And then the talented Fakhar uses his feet once again to hit Jadeja's last ball of the over for a four to the leg side. Brilliant batting. That also brings up Pakistan's 100. (Pakistan 100/0)
17th over: Pandya bowls his second over. First false shot from Azhar. Trying to male room for himself, Azhar mis-timed his shot and fortunately for him the ball lands in no-man's land. Just three runs in the over (Pakistan 93/0)
16th over: Ravindra Jadeja replaces Ashwin. And this is a pretty good start from the Indian left-arm-spinner. Gave away only four runs in the over. (Pakistan 90/0)
15th over:Hardik Pandya replaces Bumrah. Makes a confident lbw appeal against Azhar in his first ball. But the umpire was unmoved. It was going all well for the Indian all-rounder until Azhar played a tremendous square cut for a boundary in the final ball. (Pakistan 86/0)
14th over: Ashwin continues. Only four runs in this over from the Indian off spinner. First over without a boundary for Ashwin. (Pakistan 78/0; Azhar 35, Fakhar 31)
13th over: Bumrah continues. No boundaries in this over. But India have given away 12 extras so far. Pakistan have taken some quick singles in this over. (Pakistan 74/0)
12th over: Ashwin continues and Fakhar uses his feet beautifully to hit him to the mid-wicket boundary. Ashwin has given away 24 runs from his three overs. (Pakistan 69/0)
11th over: Bumrah is back. Replaces Bhuvneshwar. And the first convincing shot of the day comes from Fakhar. A beautiful straight drive for four. That will definitely give him the confidence. Bumrah hits back with back-to-back lbw appeals against Azhar. But the umpire isn't interested. (Pakistan 63/0)
10th Over: Ashwin bowls his second over but it's that man again, Azhar Ali. Sweeps the Indian to the deep fine leg boundary. Fakhar, on the other hand, is still looking nervous. (Pakistan 56/0)
9th over: Bhuvneshwar continues and teases Fakhar with short balls. Could it be a ploy? Fakhar is trying to hook everything. He needs to calm down as Azhar already has given Pakistan confidence with some fine stroke-play. (Pakistan 48/0)
8th over: Ashwin replaces Bumrah. Kohli looks desperate for a wicket. Burah was wayward today in his opening spell. Ashwin was welcomed by Azhar with a majestic six over long off boundary. First six of the match. Great use of the feet by the Pakistani Test specialist. Could play a great ODI knock today in the big match.(Pakistan 48/0)
7th over: Much better from Bhuvneshwar. Has kept it tight. Has given away only two runs in the over. (Pakistan 38/0)
6th over: Bumrah bowls, but Azhar is looking very confident out there. Hits two boundaries in the over. There is hardly anything for the bowlers on this wicket. And it's a nice sunny day. (Pakistan 36/0)
5th over: Bhuvneshwar bowls and Pakistan get four leg byes. A short ball hit Fakhar in the helmet and the ball raced to the third man boundary. Fakhar then makes room for himself and pulls to the mid-wicket boundary. (Pakistan 27/0)
4th over: Fakhar Zaman survives. The opener was caught behind off Bumrah but the Indian bowler over stepped. No-ball. So the Indian joy was short lived. Fakhar then got the first boundary for Pakistan with an unconvincing shot - a inside edge that raced to the fine leg boundary. It's all happening. In the fourth ball, Azhar plays a majestic pull straight past the bowler for Pakistan's second boundary. 12 runs came in the over. (Pakistan 19/0)
3rd over: Bhuvneshwar bowls again and he is impressive. India looks very sharp on the field as well. Pakistan batsmen try their luck and take a few quick singles. ((Pakistan 7/0)
2nd over: Jasprit Bumrah bowls and appeals for a leg before in the first ball. Fakhar Zaman misses the line of the full toss. But the umpire wasn't interested. Pakistan get off the mark as Bumrah bowls a wide. Fakhar looks tentative. Big final for a young man. But Azhar looks assured. (Pakistan 3/0)
1st over: Swing bowler Bhuvneshwar Kumar opens the bowling for India and maintains a nice line. Pakistan opener Azhar Ali wasn't given any room to free his arms. Maiden over. (Pakistan 0/0)
TOSS
India have won the toss and decided to field first.
"Nice and hard wicket," Virat Kohli says. "There's a fresh wicket, even grass covering and we'd like our bowlers to exploit it. Then we like chasing. No matter the conditions, you have to play good cricket. One more effort to go. I'm sure the guys will give it their best shot. If you make the finals, you've played really good cricket. We don't take oppositions for granted and today is no different. No matter what they bring, we are believing in our abilities. Unchanged team"
Pakistan captain Sarfraz Ahmed was disappointed with the toss result. "We wanted to bowl first. But the toss is out of our control. Hopefully we can post more than 300. I said when we arrived here, we have nothing to lose and we have nothing to lose today too. Mohammad Amir is fit and he is backd."
That means Rumman Raees is out of the final.
TEAMS
India
Rohit Sharma, Shikhar Dhawan, Virat Kohli (captain), Yuvraj Singh, MS Dhoni, Kedar Jadhav, Hardik Pandya, Ravindra Jadeja, Ravichandran Ashwin, Bhuvneshwar Kumar, Jasprit Bumrah
Pakistan
Azhar Ali, Fakhar Zaman, Babar Azam, Mohammad Hafeez, Shoaib Malik, Sarfraz Ahmed (captain), Imad Wasim, Mohammad Amir, Shadab Khan, Hasan Ali, Junaid Khan
KEY STATS
Five of the six previous champions have won the final while batting second.
Pakistan's Shadab Khan has become the youngest player to play in an ICC tournament final.
WICKET
The Oval wicket is ideal for batting. Former Australian player Michael Hussey had a look at the pitch today and this is what he had to say: "There's a little tinge of grass out there. It's a fresh pitch."
Nasser Hussain, former England captain, said: "The sun has been beating down. It's 32 degrees (That's winter in the subcontinent) and so it isn't live grass. The outfield is green and lush, very little dry areas. So it'll be interesting to see if Pakistan can get the ball reverse-swinging. It's a belter."