New rate for Dubai school fee hikes soon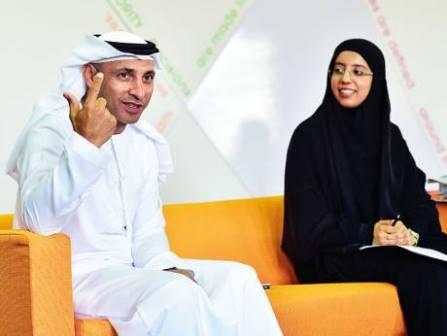 Dubai: The new rate for regulating school fees in Dubai is expected shortly, a top official said following the release of the latest school ratings on Tuesday.
Dr Abdulla Al Karam, director-general of Knowledge and Human Development Authority (KHDA), on Tuesday said the Education Cost Index (ECI) will be announced "soon".
His comments came during a press briefing about the latest school inspection results, which KHDA shared with parents on Tuesday. He was responding to a question about when the ECI can be expected. On Tuesday, key findings about the ratings were discussed by KHDA officials. The proportion of students (66 per cent) attending 'good' or better schools has more than doubled in the last 10 years, since official inspections began.
Complete list of latest school rating
In the latest inspection results, of the 166 private schools inspected this academic year, six were rated weak, 51 rated acceptable, 68 rated good, 27 rated very good and 14 rated outstanding.
In Dubai, school fee increases are tied to the ECI, announced by Dubai Statistics Centre, and the school's KHDA inspection rating. Together, the system is known as the School Fees Framework.
According to the framework, schools rated 'outstanding' are eligible to apply for fee increases by ECI x 2, 'very good' by ECI x 1.75, 'good' by ECI x 1.5; with 'acceptable', 'weak' and 'very weak' by ECI x 1.
Last year's ECI was 2.4 per cent, meaning schools could apply to raise fees by 2.4 to 4.8 per cent. However, many schools had decided to freeze fees to stay competitive or ease the financial burden on parents, Gulf News had reported earlier.
For the coming school year, which starts in September, some schools have already announced fee reductions.
David Cook, headmaster of Repton School Dubai (rated outstanding), said: "As a provider of quality education, Repton School wishes to support access to as many pupils as possible who would benefit from the education offered. In response to this, we had previously declared the school's decision to reduce fees in the senior school by an average of 10 per cent, effective from the 2018-19 academic year. Repton School has also decided to implement a freeze on Junior School fees for the upcoming academic year."
On the latest inspections, he said the school's outstanding rating is "an excellent reflection of the dedication of our pupils, teachers and all our support team over the past year. We are grateful to our supportive parents and we look forward to further developing the Repton community. Repton Dubai has successfully met the new rigorous criteria of the National Agenda Framework, and once again has been rated as outstanding."
Parents now know their school's latest rating and are waiting for the ECI applicable for the coming school year.
Dr Al Karam said: "10 years ago parents in Dubai had no objective means of knowing about the quality of education schools were providing, nor any evidence-based way to compare schools to help them choose the best one for their children. Now, parents and educators have a common language to talk about education quality, and annual inspection reports on every private school in Dubai provide an invaluable resource for parents."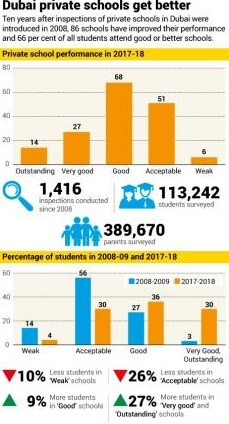 Fatma Bel Rehif, executive director of KHDA's Dubai School Inspection Bureau, said: "Reflecting on the last 10 years of school inspections in Dubai, we can clearly say that the quality of education offered by private schools has significantly improved, as have student outcomes and achievements."
Overall, there is a higher proportion of good and better schools in Dubai, with 86 schools having improved their overall performance judgment since their first inspection visit.
However, many schools judged outstanding "have struggled to maintain their ratings", said Simon O'Connor, principal of Jumeirah College, rated outstanding.
The latest ratings show three schools slid from outstanding to very good.
O'Connor said Jumeirah College "has not only maintained its overall judgement of outstanding, but improved the judgements by 13 per cent – the school's best ever report. I am particularly pleased that the inspectors recognised the improvements in our Arabic provision, as well as our commitment to inclusion and our students of determination."