Must-do things to do over the weekend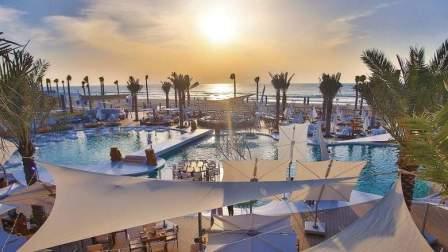 A lot of interesting events are set to be held across the UAE this weekend. We select some of the best events to make it an exciting week for you. Here are our pick of events to check out this weekend.
Sports days
Fancy a day of sports? Want to dump the kids somewhere? Dubai World Trade Centre's Sports World has a Just Play Sports Camp which allows kids to play sports all day. There are various age categories and you can choose the sport that interests you most. We've heard the basketball is great, so get involved.
Zero G mornings
It's wet and wild most of the time, but Zero Gravity has a new breakfast on offer every day and it is epic. Quite literally. Called The Epic Breakfast, enjoy two hours of muffins, fruit, croissants, eggs and other cooked items, washed down with tea, coffee and juices for Dhs99. In this eatery that's a good deal.
Eat, beach, spa
Thailand is famous for its food, massages and beach getaways and if you can't escape to Thailand this summer don't fret - Pai Thai at the Madinat Jumeirah is offering a true Thai experience with its 'Bring Thailand to Dubai summer campaign. Eat your Thai favourites, get a massage and relax on the beach with this package. Wonderful.
Maffia meeting
So Solid Crew's Lisa Maffia will be live on stage at Gursha Dubai tonight! Alongside her will be DJ EAZY and DJ INK bringing in the chill vibe with Ethiopian food, cocktails and shisha by the beach at Gursha on The Palm. It says it starts from 6pm, but we reckon you could probably roll in at 8. Although don't be too late because this is going to fill up fast.
High Societe
Dubai Marina's favourite club has been refurbed and re-opens tonight! Don't worry, they'll still be playing the music you love, just in improved surroundings. Enjoy the first ever food menu and the state-of-the-art extractor system that promises to filter smoke from the air. Societe is so confident in the new system that if a guest leaves with their clothes smelling of smoke, the club will dry-clean them for free!
Album launch
Music lovers in the region are in for a special treat as celebrated Lebanese artiste Melhem Zein returns after a sabbatical with the launch of El Jereh li Baado - his first album in four years. The keenly-anticipated album is out now to dowload featuring 12 stirring tracks that straddle a variety of genres including classic, pop and folklore and a remix of Dal3ona that adds a funky new twist to the popular song.
It's a Lego land!
Boxpark is stepping up the summer excitement with bricktastic promotions. The world of LEGO is descending on Boxpark. Open every day from 12pm till 10pm, the extravaganza will see a host of complimentary experiences including LEGOLAND Dubai's popular 'Build and Test" attraction where children get to build car models and race them down a ramp and the LEGO Minifigures treasure hunt.
Local Opera gig
Emirati star Mohamed AlShehhi will take to the Dubai Opera stage for one spectacular night on Friday. Hailing from Ras Al Khaimah, Mohamed's career began with his hugely popular early songs Hirati and Samti, which gained him over half a million YouTube subscribers. Not only is AlShehhi a gifted vocalist, he's also a talented composer, having written most of the songs he performs. He is best known for his hit song Kachf Al Mahaba, which has already racked up more than 34 million views on YouTube since its release in 2016.
Cancel all your clubbing plans, we've got you covered
Lion watch
This Saturday at Bidi Bondi Bidi's have built a dedicated fan zone with air conditions and one large projector screen for the British Lions match against The All Blacks. They've also created a Lions' Burger! Where: Mina Seyahi
Analog time
The Analog Room is a dark, cavernous underground space, with art showcased from local talents in the UAE. The new season kicks off tonight with DJs Mr Basic Channel and Sir Moritz von Oswald. Where: Westin Dubai
Hey Nikki
The beach club is still open this summer, so make sure you head down there to enjoy the all-day festivities. DJs will help with the ongoing "Celebration of Life" theme, helping you to unwind over the weekend.Where: Nikki Beach
Here Vii go
It's back open! One of our favourite clubs has its regular nights coming to us this weekend - Takeover Thursdays and Risque Fridays. This always pulls in one of the best crowds. Will you be there? Where: Vii