Meet the Locals: Bridging cultural gaps in the UAE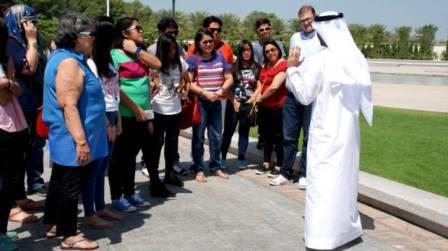 ABU DHABI: Can you name three Emirati dishes or any restaurant that serves authentic local cuisine?
If you are still wracking your brain, then you may want to get in touch with Meet the Locals.
The brainchild of Emiratis Abdulla Al Matar, 27 and Khadija Behzad, 32, the start-up organises bespoke tours for expats and tourists in which they get acquainted with UAE's culture, heritage and traditions. The innovative concept bagged the award for the best start-up at the Sharjah Entrepreneurship Festival recently.
Certified guides
Since its launch in July 2017, over 1,000 people from nearly 50 countries have taken these curated tours with certified Meet the Local guides. "Expats constitute roughly 80 per cent of the UAE's population. Yet very few of them have been exposed to Emirati culture.
"As Emiratis, it's our responsibility to promote UAE culture among expats
They have not sampled authentic local food, can't speak Arabic and have very little information about the UAE's past. As Emiratis, we thought it was our responsibility to promote the country's rich cultural heritage among them," said Matar. The tours don't come free though, and cost between Dh150 and Dh300 per person. A typical day starts with a stroll in the winding bylanes of Dubai's Al Fahidi Historic Neighbourhood which offers a glimpse into the Dubai of a bygone era including traditional wind towers, bustling courtyards and maze of winding alleyways.
Culinary experience
After a tour of Al Fahidi district, also known as Bastakia, visitors are treated to traditional home-cooked meals. This is followed by a session of Emirati poetry and music. Other popular places on the itinerary list include Etihad museum and Abu Dhabi's Shaikh Zayed Grand Mosque. "For women, we organise special cooking classes where they learn about various ingredients, spices and traditions native to the UAE," said Behzad.
An Indian expat who took the tour said the experience gave her a deep insight into Emirati culture. "I visited an Emirati home where the lady of the house served us popular local dishes such as Harees, Thereed, Luqaimat and Balaleet."
"Cooking classes are held for women where they learn about Emirati cuisine"
British expat Emma Porters who was also part of one such tour described it as an amazing introduction to Emirati life.
Recently, the start-up launched an induction programme targeting new recruits in corporate houses.