Manushi Chhillar brings Miss World crown to India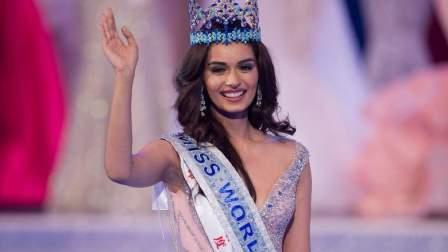 India's Manushi Chhillar on Saturday won the coveted "Miss World 2017" title at a glittering event here, ending 16 years of drought for India at the international pageant.
Manushi is the sixth Indian to win the title and the first since Priyanka Chopra won the crown in 2000.??
"The feeling is still sinking in and I am very excited to make India proud too. I'm also looking forward to the year ahead," Manushi said in a statement after the win.
All of 21, Manushi was born to doctor parents in Haryana, which once ranked the worst among all states in sex ratio in India.??
"My parents have always been my pillar of support and having them here tonight by my side has only brought me more strength and joy.??"My final answer also came to me by having them here with me in front of me," said Manushi, whose family members, including a brother and a sister, were present at the gala.
In the question-and-answer round after she was shortlisted among the top five, Manushi was asked:
"Which profession deserves the highest salary and why?"
She said a mother deserves it most.
Manushi was ecstatic and emotional when she was announced the winner from among contestants from 108 countries. She was crowned by Miss World 2016 winner, Puerto Rico's Stephanie Del Valle.??Miss Mexico Andrea Meza was announced the first runner up, while Miss England Stephanie Hill was declared the second runner up at the event, held at Sanya City Area.
Apart from the main title, Manushi also won the "Beauty with Purpose" award.??Soon after, congratulatory messages poured in.??
Haryana Chief Minister Manohar Lal Khattar congratulated Manushi, saying:
"Manushi, 'the daughter of Haryana', has made the country and the state proud." ??Priyanka was joyous about having a "successor".??"And we have a successor! Congratulations Manushi Chhillar on becoming Miss World 2017. Cherish and learn, and most importantly enjoy it. Bravo," she tweeted.
"Neha Dhupia, a former beauty queen and who mentored India's Miss India pageant contestants this year, tweeted: "Congratulations Manushi Chhillar.
We knew you had all the qualities to conquer the world ever since we met you for the first time! You go girl!"
Manushi did her schooling in the national capital Delhi and became a student of medicine in Sonepat.
In an interview during her grooming, she said: "The only thing I believe is certain in life is uncertainty, and this is what is amazing about the pageant." She was always confident about winning the crown.
The first Miss World crown was won for India by Reita Faria in 1943, followed which Aishwarya Rai (1994), Diana Hayden (1997), Yukta Mookhey (1999) and Priyanka Chopra (2000).