Lucknow Central review: Should you watch this weekend?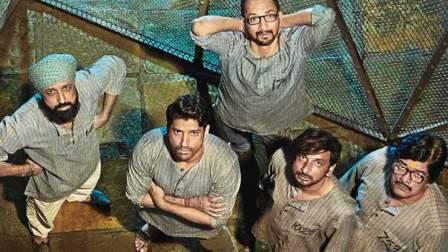 Lucknow Central is not a Rock On set inside a prison; while music is at the heart of its narrative, it is a deep 'people' film that offers a window into the system and the society from the view point of those who are jailed for right or wrong reasons.
While the film takes its time to warm up and has a storyline that appears convoluted and with a central character that behaves in odd fashions, it is to the credit of director Ranjit Tiwari that finally he ties it all into one neat bundle of a feel-good flick.
What makes the film a triumph is its ensemble cast - from its lead actor Farhan Akhtar to Gippy Grewal, Deepak Dobriyal, Rajesh Sharma, Inaamulhaq and Ronit Roy. For once, you also have a lead lady, played smart and elegant by Diana Penty, who does not become a caricature but lends strength to the narrative.
As one-liners go, Lucknow Central is the story of an aspiring singer Kishen (Farhan), falsely implicated in a murder case and is doomed for life in prison that could very well become a death sentence. He latches on to a chance idea - of forming a band within the prison - as a way to escape from prison. He brings together a motley group of non-musicians and together they plot for 'freedom.'
The first half is weak as director Tiwari sets Kishen out on a nearly impossible task of forming the band. That the jailer (Ronit Roy) is not an easy man makes things even more difficult. The only support comes from the NGO worker Gayatri (Diana). The proceedings here are rather predictable and have narrative loopholes.
Where the film comes to life is in the second half as we get a first glimpse of the back-stories of Kishen's 'band members.' The emotional context of the film shines through when Kishen's father, a retired librarian, presents his case to Gayatri, in a last bid attempt to secure his boy's innocence.
It is a powerful scene, one that also forms the underlying text of the movie - the quote of Orson Welles - that 'nobody gets justice; people only get good luck or bad luck.'
Lucknow Central has a strong core but it also has a faltering narrative; the transformation of Kishen, from a totally-lost innocent victim of circumstance, to being one strong enough to pull off a prison break is hardly convincing; those are the moments it becomes 'filmy.'
The long-drawn out climax is weak, more so because it is used as a convenient ploy to get out all the messages and clean up the film.
But for all the convenient glossing over through key plot-points, Lucknow Central is memorable for the inspiring performances of its cast members and for its attention to details. The 'system' - from minister to police chief to jailer - is so well-etched that it is powerfully satirical. There are also some quirky moments of situation comedy as well as subtle humour.
For a film centred on music, the opening song Rangdaari is marvellous while there is no reason the makers had to recreate Monsoon Wedding's Kaavaan track for the climax.
Lucknow Central is worth a watch for its narrative sub-texts, and to see how a great cast can elevate even a plot-hole-ridden script.
Lucknow Central
Starring: Farhan Akhtar, Ronit Roy, Diana Penty
Directed by Rajesh Tiwari
Now playing at theatres in the UAE
Rating: 3/5