Lahore's Gaddafi Stadium ready to welcome international cricket again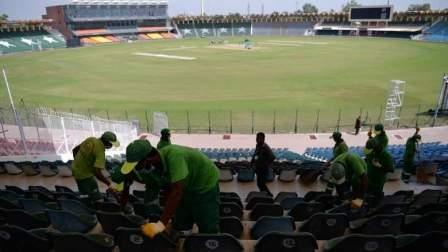 Groundsmen are rolling down the pitches, welders are repairing barbed wire, and workers are splashing on a new coat of paint at Pakistan's centrepiece Gaddafi Stadium, which has witnessed both history and controversy - and is now preparing to retake cricket's world stage.
Next week the ground will ring out with the sound of Pakistan's national anthem once more as the home team takes on a star-studded World XI, the highest-profile international fixture in the country since a deadly militant attack eight years ago.
The three-match Twenty20 series will be played under tight security but it is, officials hope, a new chapter for Pakistani cricket - and for the Gaddafi Stadium's bloody, scandal-plagued and, at times, glorious story.
Named after the Libyan leader who met a grisly end at the hands of rebel fighters, the ground has seen a World Cup final and militant attack, and has been caught up in Pakistan's nuclear ambitions and geopolitical rivalries.
It is at the heart of the most tragic incident in Pakistan's sporting history, after the Sri Lankan team had to be airlifted to safety when militants attacked their team bus near the stadium in 2009.
The attack, which killed eight people and wounded nine, drove international cricket - and most other sports - from the militancy-plagued country, forcing Pakistan to host its "home" fixtures in neutral venues.
The 27,000-capacity venue has still seen moments of glory even since its peak when it hosted the 1996 World Cup final, won by Sri Lanka against Australia.
Emotions ran high when minnows Zimbabwe became the first international team to return in 2015, allowing Pakistan to play in front of their home fans.
But, even as security improves dramatically, Pakistan has laboured to convince top Test-playing nations to return.
"(The 2009 attack) was the biggest blow I think Pakistan cricket would have faced," Haroon Rashid, the director of cricket operations for the Pakistan Cricket Board (PCB), told AFP.
"If you talk about that you just feel that the sadness is coming to you."
Agha Zahid, the PCB's chief curator, hoped that was changing. "We are starting a new life," he told AFP.
Bullet marks from the March 3, 2009 attack are still visible at the cosmetics shop owned by Akbar Javed at Liberty roundabout, near the stadium, where the Sri Lankan bus was pinned down by militant gunfire.
Unlike PCB officials, he is not pleased about the stadium's revival: security fears over previous big matches have forced him to close his shop for days, he says, and he expects similar problems for the World XI.
Others took a more cheerful view.
"It's the best stadium in Pakistan," said Tauseef Sadozai, manager of the nearby Dawat-e-Khas restaurant. "This venue has missed a lot of cricket.... Losing a few days of business isn't greater than losing international cricket."
First known as Lahore Stadium when it was built in 1959, the ground was renamed in honour of the Libyan dictator Moamer Kadhafi in 1974 when he spoke out in support of Pakistan's quest for a nuclear bomb.
After Kadhafi was killed in 2011, a grassroots debate began on whether Pakistan really wanted to link its greatest sporting passion to, in the words of one newspaper columnist, a "brutal Arab dictator".
Six years later the name persists amid troubling times for Pakistani cricket.
In 2010, the year after the Sri Lankan team attack, Pakistan was rocked when then captain Salman Butt, Mohammad Asif and Mohammad Amir were caught in a spot-fixing scandal on a tour to England.
All three were banned for five years and also jailed.
Spot-fixing also tainted what was meant to be one of the greatest moments at Gaddafi Stadium: the final of the popular Pakistan Super League (PSL) earlier this year.
Opener Sharjeel Khan was last month banned for five years over spot-fixing during the PSL, while Khalid Latif's fate is expected to be decided in the coming weeks. Four other players have been investigated.
As for the name, the PCB's new chief Najam Sethi last year called for the stadium to be rebranded in tribute to the late founder of Pakistan's largest welfare organisation, Abdul Sattar Edhi.
Edhi's work uplifting the nation's destitute cemented his place in the hearts of Pakistan's cricket-loving masses.
"It was actively considered," PCB spokesman Amjad Hussain told AFP of the name change. "But no decision was taken."