High Sierra takes Macs to elevated levels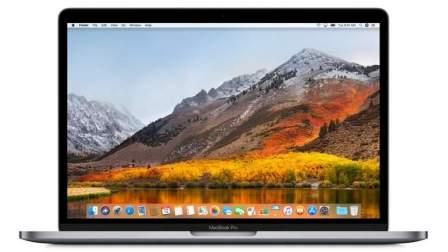 Apple's keeping us quite busy nowadays - Apple Watch Series 3, iPhone 8, iOS 11, everything iPhone X (shout-out to those who lined up early on Saturday especially) - so we're going to make sure this time around we'll keep it simple for another new roll-out from Cupertino's Mount Olympus (of sorts).
The newest version of Apple's operating system for its computers, macOS High Sierra, was announced at the Worldwide Developers Conference in June. A beta version was released on September 1, and - tadaa! - it's scheduled to be fully rolled out today.
High Sierra is the biggest overhaul to macOS in recent memory, and from a bird's eye view, it's also Apple's way of saying that they're not just for the present, but also the future (iPhone X ring a bell?).
So, since this is another major update, we'll try to make everything concise and with bull's-eye precision as we discuss what's new and improved in High Sierra, in no particular order.
The name
Just for fun and to serve as an ice-breaker, the ever-game SVP of Apple software engineering, Craig Federighi, once again spiced things up at the WWDC when he revealed how his 'crack team' came up with a great name for the successor to Sierra.
We love you, Craig. Keep entertaining us.
Honestly, when I saw the video showing an illustration of Sierra getting elevated, I had quite an idea that the new name was just somewhere up there.
You got (better) Mail
Alright, let's get more serious now. Since a computer is better at handling e-mails, we've figured to go with it first.
Now, you're more ready to take on an avalanche of e-mails.
Mail now has what's called Top Hits, utilising Spotlight to search e-mails faster while plucking out the most relevant results and putting them right on top. And since everything's getting smart nowadays, the more you search in Mail, the more accurate Top Hits will be, guaranteeing better results each time you search again.
Full screen has also been bumped up - well, actually bumped sideways, so to speak - because opening an e-mail in that screen automatically pops up a new message window on the right using Split View, so don't have to go back and forth or up and down or switch apps if you need anything from the original e-mail for your reply. Even more, High Sierra compresses all your e-mails; it has the ability to take 35 per cent less space for all of them.
Say cheese
Open up Photos and you'll see some new stuff on it, including an enhanced sidebar that now shows imports history, showing images you've put in your library listed by import date, and media types, so you can see pictures organised by parameters like bursts, panoramas, selfies, GIFs and Live Photos.
On the other side, you'll see a selection counter, which shows you exactly how many files you've chosen, which in turn can be used with drag-and-drop to transfer them to an album on the sidebar or to the desktop where you can export them. Below that is a drop-down menu, which you can use to filter your files by, for example, Favorites - you can even create your own keywords with Keyword Manager.
If you want to make things look better (or the other way around for fun), the rehashed Edit view now has a more complete set of tools you can use. There are new functions as well, such as Curves, which allows you to make fine-tuned colour and contrast adjustments, and Compare toggle, which makes you see the before-and-after of an image you're doodling with. The External Editor, meanwhile, gives you access to third-party apps (Photoshop, anyone?); any edits you make will still be saved in Photos as a non-destructive layer.
And of course, there are new filters available for your pics: 'completely reimagined' filters now give more spunk to three classic photography styles - black and white, vivid and dramatic. I won't be surprised if many of you would import their selfies to a High Sierra device before showing them to the world.
Live Photos, meanwhile, is back with better Loop, Bounce and Long Exposure effects, while also adding new trim and mute features to its arsenal. The People album is now more accurate, and if you sync this using the iCloud Photo Library, Photos will simply combine them if you've named people on multiple devices.
File it under 'secure'
The Apple File System on High Sierra devices come with all-flash internal storage. In other words, it's more accurate, more secure and more reliable. Period.
Apple prides itself in securing the data on its devices.
Expanding on that, native encryption is ever-present, meaning it's built into the system's foundation, with support for full-disk encryption in the new OS. Apple's file systems - be it macOS or iOS - are, I'm told, are at the level of those used by banks, so that gives you the idea of how high its security is.
The system's extensible data structures also assures that it's backward-compatible, even as new features are added. It also protects files more from crashes, featuring more protection against loss of data. And by the way, all data structures are now 64-bit, allowing the system to efficiently address huge file systems (that 64-bit thing reminds me of a couple of games I couldn't play anymore on my iOS 11-powered iPhone), plus back-up creation is now more reliable.
4K? No problem
Apple also introduced a new file-compression technology to keep up with the growing use of 4K video: HEVC - High Efficiency Video Coding, or H.265. The next-generation innovation offers lower bit rates compared to the current H.264, as well as improved quality. And with HEVC built-in in macOS and iOS 11, Apple says it's the 'next key media technology' for them - a 'major league', as they termed it. Matter of factly, HEVC is now an industry standard and is seen in many other devices
HEVC enables more efficient storage and delivery of 4K video, which has four times the resolution of HD.
In a nutshell, HEVC dramatically reduces video sizes without compromising on quality - taking up to 40 per cent less space. This is critical for Macs and iPhones as it works in harmony with Photos and QuickTime, ensuring less space for all your stuff. It also offers higher-quality streaming - such as in Safari - so you're sure to be visually-pleased at whatever you view.
Wild, wild Web, tamed
Speaking of Safari, Apple has figured out a way to relieve you of those annoying ads you see everywhere related to a certain product you just browsed.
Here's how it works: Safari, using machine learning, identifies advertisers and others who track your browsing behaviour. This time around, it automatically eliminates the cross-site tracking data trail they leave behind, which ensures that those ads won't show up anywhere you go. Being the shoe nut that I am, I'll be happy not to see those show ads haunting me after I've searched for them, especially in situations when I really want them, but they're uber-expensive or I have no chance to actually cop a pair. Thank you for sparing me the torture, Apple.
In addition to that, there's also an improvement in Content Blockers: if you have an app or extension that blocks third-party content like, say, ads on Web pages, you can choose which sites to use it on. And more browsing-in-peace, Safari now also automatically stops those annoying Web videos and audio. If you, for some reason, have websites that you prefer to have those on, simply add that site to the Media Auto-Play list.
As an added bonus - among several others - Safari now allows you to surf the Web for up to two hours longer and watch Netflix videos up to four hours more versus the competition.
VR! VR! VR!
Well, virtual reality is just waiting for its huge moment, ready to explode anywhere and everywhere. Apple already kick-started its mission with ARKit on iOS 11 - and macOS won't be left behind.
High Sierra now has support for VR headsets; simply slap in a VR headset, launch the relevant app and you're good to go (and fall to your virtual death). Warning: just remember you may end up in one of those 'VR fail' viral videos if something awry happens to you.
Be careful when using one of these; you might end up in a viral fail video
Anyway, there's a specific headset ready on the fly for this, the HTC Vive VR. Just plug it in to make it available to VR-enabled development tools. You can use it to view and create VR content - even 360-degree videos on supported Mac models.
Speaking of 360-degree videos, you'll be able to create these on High Sierra later this year, using Final Cut Pro X and Apple's own professional motion graphics app, aptly called Motion.
Meanwhile, Apple is cementing more partnerships in the VR world for this endeavour, including those with Valve, Unity and Epic - so expect more content coming real soon.
And the rest of it
Before we finally end, allow us to briefly clue you in on what's new in High Sierra's development tools.
Swift 4 - the holy grail of app development for Apple users - now ensures source code compatibility, is easier to use and has souped-up dictionary and set types, making coding easier than ever. Reminds me of those bunch of really young kids - and elderly lady - at the WWDC, who made me feel how mortal I was.
Meanwhile, WebKit, the open-source platform for Safari, has its own tricks as well. Its deep integration between Mac hardware and macOS allows Safari to have the fastest performance and longest battery life across all Web browsers.
External Thunderbolt graphics enclosures allow users who need more horsepower to run the most demanding graphics kinds of high-end pro and scientific apps.
And the Metal 2 graphics developer kit now makes it easier for users to maximise the potential and beauty of their graphics on High Sierra - not to mention support for VR rendering.
And I lied - we aren't stopping there because we have to add some more.
Siri now sounds better than ever, with a more natural-sounding voice - plus it's also more intelligent now (as always). It'll also serve as your own personal DJ on Apple Music; saying 'Play some music' prompts Siri to line up some songs depending on your preferences.
Never miss a flight. Again.
Spotlight, meanwhile, will allow you to check flights. Just type in an airline and flight number and get everything you need to know about it. Also, FaceTime can now take Live Photos, while the Universal Clipboard allows you to copy and paste files from one Mac to another.
Of course, you can't just take our word - actually, lots of words - here for it. The real deal is when you actually try out High Sierra on your Mac, and experience the new heights it takes you to.