Hamdan bin Mohammed port boosts Dubai's cruise sector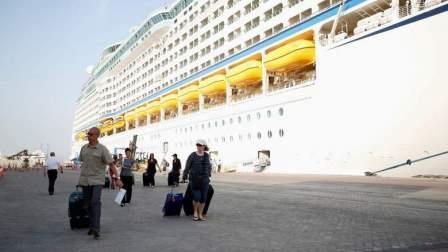 DP World continues to boost the capabilities of Dubai's cruise tourism sector, setting the city as a premier international cruise destination.
The Dubai Cruise Terminal at Port Rashid, operated by DP World, welcomed 625,000-holidaymakers in 2016-17 cruise tourism season, doubling the 320,000 cruise visitors that arrived in Dubai in the 2013-14 season.
Key to this growth is DP World's state-of-the-art Hamdan bin Mohammed Cruise Terminal at Mina Rashid, which is set to be the largest terminal in the world capable of handling 18,000 passengers a day. Since it was inaugurated in 2014, there has been a 68 per cent increase in cruise ship calls to Dubai from 93 in the 2013-14 season to 156 in 2016-17.
Around 1.9 million cruise tourists visited Dubai on board a total of 489 cruise calls during the four seasons from 2013 to 2017. The number of cruise visitors is expected to touch 700,000 in the 2018-19 season.
Infrastructure development is underway to add more capacity to DP World's Mina Rashid Cruise Terminal, which is spread across 2 million sqm and is currently equipped to handle 7 mega cruise vessels or 25,000 passengers simultaneously. It has been voted the Middle East's 'World's Leading Cruise Port' for the 10th straight year at the World Travel Awards.
Sultan Ahmed bin Sulayem, group chairman and CEO of DP World, and chairman of Ports, Customs and Free Zone Corporation, said: "With a goal to attract 20 million tourists a year by 2020, of which at least 1 million are expected to be cruise tourists, we are committed to providing facilities that are the best in the world and create a truly luxurious cruise experience catering to the tastes and sophistication of visitors."
Dubai's cruise tourism market has grown rapidly over the past four seasons as the city is becoming a choice destination for cruise enthusiasts from Europe and the US, he added. "Our plans for further boosting the sector will certainly help achieve more growth in the coming years."