Free Dubai taxi rides for these passengers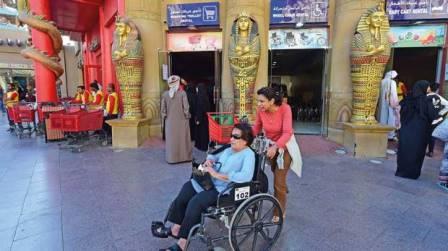 Dubai: Passengers with special needs or disabilities, now commonly referred to as people of determination, who need a ride to the airport or anywhere in Dubai can now book a taxi free of charge.
Dubai Taxi Corporation of the Roads and Transport Authority (RTA) has tied up with Al-Futtaim Motors Company to launch "Al Khair Ride," a new initiative geared towards helping a special segment of the community.
As part of the programme, some taxi units have been specifically designed to be easily accessible by wheelchair-bound passengers, making the ride convenient for those who may be impaired.
The dedicated taxis are also manned by drivers who have been highly trained in assisting people of determination, and those who want to avail themselves of the free service may call 04-2080808.
The service is run at Dubai airports and available round-the-clock throughout 2018.
The RTA had earlier launched a website dedicated to people with difficulty in hearing or seeing, or users who are unable to use a mouse to access online services.
According to Yousef Al-Raeesi, CEO of government affairs at Al-Futtaim Motors, the free taxi service is part of the campaign to "reinvigorate the noble values instilled by the late Shaikh Zayed."
"The initiative also encourages benevolence and humanitarian work among public and private entities."
The UAE's Federal Law No 29 of 2006 seeks to protect the rights of people of determination.
As stipulated in Article 1 of the law,people of determination are those who are "suffering from a temporary or permanent, full or partial deficiency or infirmity in his physical, sensory, mental, communicational, educational or psychological abilities to an extent that limits his possibility of performing the ordinary requirements as normal people."