Fish prices in UAE rise as mercury soars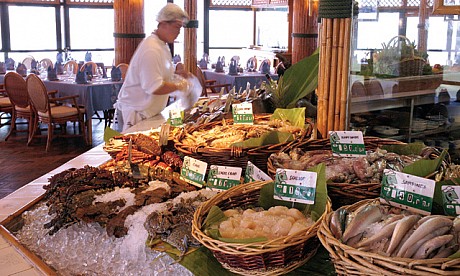 Hot summer has driven fish deeper into the sea, which means low catch and high prices, vendors at Abu Dhabi market said. Smaller fish like sardines and mackerels, and bigger ones like hamour all have turned dearer.
Vendors at Mina Fish Market said that the prices have risen compared to the past months and set to hit record levels soon.
Hidayath VP, a vendor for 15 years, said the rise of prices of sardine is an indication of the present condition. "We used to get four kilos of sardine for Dh10. If supply is less, it would go up to Dh15. Now, we are getting it for Dh40 or more. And we sell it for Dh15-20," he said. "Hamour was Dh35 in May and Dh40 in June, is now being sold between Dh60 to Dh70. Only some small local fish has remained unaffected."
On the present phenomenon, Hidayath said: "When its summer, fish dive deep down the sea bed as they can't survive the heat." He added that business was down. "Already up to 80 per cent vendors in this market are struggling to sustain. Most of them are staying as they don't have any other place or work to look at."
Heat and rain: UAE to see contrasting weather Another vendor said the demand has dropped primarily due to summer vacation season and supply is hit by poor catch from the sea. "Sardine is at Dh15-20 per kg; mackerel is Dh20-25 per kg. Both the fish were half the price just last month. Rabbit fish (sheri) is up at Dh45," the vendor said.
"Supply is less. This scarcity is driving the prices. Whatever fish we are getting do not have much meat in them. It seems fish don't get enough to feed on and hence not much meat. This is also a factor to determine the price. Top rates would be hit in the coming days," warned another vendor. He also noted that less number of fishermen went to the sea due to summer heat.
"Each boat needs a local to go into the sea. The locals are finding it difficult to go out in the sun," he said. Vendors said the prices will stay in the high till September and October.