Eman's ultimate target to weigh under 100kg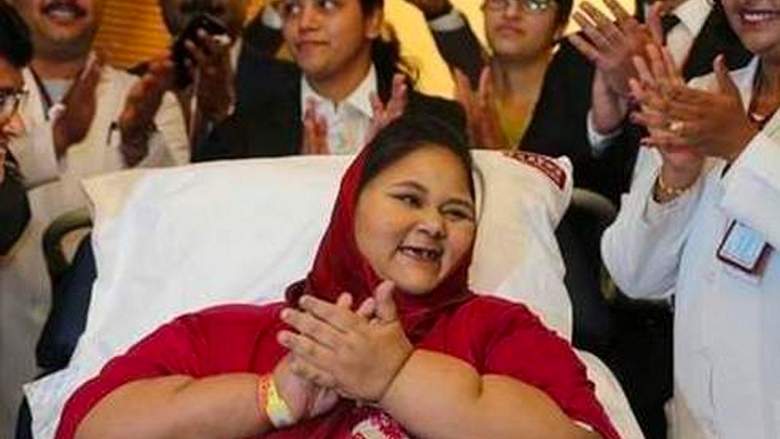 Two-and-a-half months after she was airlifted to the UAE from India, Eman Ahmed is filled with hopes to shed the world's heaviest woman title.
The Egyptian woman was wheeled into the auditorium at Burjeel Hospital during a Press conference on Monday and her change was visible in her expressions.
Eman, who had been admitted at the hospital on May 4, looked remarkably relaxed and poised despite seeing a hall full of strange faces. Surely, the team of doctors had ensured that her depression was replaced with sense of hope.
Eman nodded in approval as her sister Shaimaa Selim thanked everyone at the hospital and the UAE leaders for the love, care and support she received. And when the shutterbugs goaded, Eman raised her hand with a thumbs-up. This was a blissful scene in contrast to an anxious and hesitant Eman of past.
Eman's appearance and gestures silently conveyed the message that the Egyptian was slowly but steadily shedding her heaviest woman title. It wasn't clear how much weight she had lost.
VPS Healthcare managing director Dr Shamsheer Vayalil said the time wasn't right to reveal details about her weight.
"There are two things we want to keep aside - one is the cost as this is a humanitarian approach and the other is weight. We are taking utmost care like a family member. There has been a lot of sensitivity around her weight issue. We want to ensure the privacy of the patient is respected."
Vayalil, however, said all the details will be revealed in future.
"She has reduced (weight), trimmed down and is looking much better," he added.
Vayalil said the ultimate target is to hit below 100-kg mark.
"This will take time and there's no magic cure. We are willing to walk all that distance with the family," he said, noting that there wasn't any fixed time frame.
On a lighter note, he added: "We want to take her out in car and buy her an ice-cream at the Corniche."
He has also promised an electronic wheelchair as a gift to Eman.
Eman's conduct in the auditorium had left Vayalil surprised.
"Winning her confidence was an important challenge for us. It took us a while but now, half the battle is won. She is a committed lady who wants to lead a normal life."
Big plans
Dr Shamsheer Vayalil said there are grand plans in store with regards to Eman.
"We want to fight the larger cause of obesity. And Eman is no less than Malala Yousafzai. We want to use Eman as an ambassador in the fight against obesity."
As a long-term plan, Vayalil said he would like to take Eman to schools and let her talk about life and experiences to students. "Our plans are big with her."
Meanwhile, chief medical officer Dr Yassin El Shahat said there was significant improvement in Eman's psychological condition and the medical team has adopted a three-stage plan as treatment.
"We completed our first stage and will move to surgeries starting from mid-August. We will have liposuction, plastic surgery and then move to the next phase."
The third stage, Shahat added, will start once Eman achieves full stability. Eman would have surgery for the aortic valve and another one to improve the joints of the hips and knees.
Development during stage 1
Eman's mood has improved significantly and she has positive interactions with people. Burjeel Hospital chief medical officer Dr Yassin El Shahat said "this will psychologically help in the healing process".
There is improvement in the movement of her limbs. She can use both her arms for performing daily activities like eating, drinking and taking her oral medications.
She can sit up in bed and in the specialised wheelchair for long periods, which did not happen with her for the last three years since she suffered a stroke.
She can pronounce useful sentences and communicate with the people around her more effectively.
Eman began swallowing food gradually and can eat full meals on her own in addition to taking her prescribed medications orally.
There has been a significant improvement in the bedsores.
She is losing weight with conservative ways - especially through diet.
href="http://www.khaleejtimes.com/nation/abu-dhabi/eman-responding-well-to-treatment-in-abu-dhabi-" rel="nofollow" target="_blank">Source>>>