Eid Al Fitr celebrations across the UAE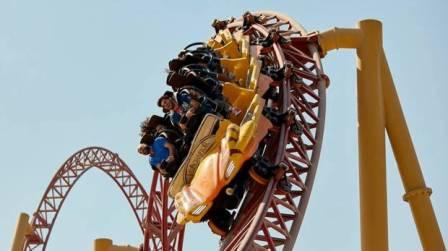 Ferrari World Abu Dhabi
For the first time, families can celebrate Eid El-Fitr all day and all night with music, fun, games and rides at the park on June 25. As the grand finale to the park's highly popular FreeView season, guests will be allowed to enter the park with no admission fee.
Location Ferrari World Abu Dhabi Cost Enter for Free and all rides at Dh175 per person & Dh125 for kids below 1.3m Timings 11am on June 25th to 10pm on June 26th with Free-View admission Contact 02 496 8000
IMG Worlds of Adventure
Both kids and adults can enjoy and celebrate Eid at the world's largest indoor theme park. IMG Worlds of Adventure will be launching the all new Cartoon Network characters, the Lost Valley show, Eid activities and much more. Those who will buy tickets online and at the ticket counters before June 22 will receive a free Dh50 food voucher to dine on location.
Location City of Arabia Cost 1 Day Park Admission for Adults starts at Dh245 and 1 Day Park Admission for Guests under 1.2m starts at Dh225 Timings June 25 to June 28 from 11am to 12am Contact 04 4038888
Yas Waterworld
Eid celebration at the waterpark are happening from June 25 to July 1 with an array of music, contests, fun activities and more for the whole family.
Location Abu Dhabi Cost Dh185 per person if booked through Yas Waterworld's website Timings June 25 to July 1 from 10am to 8pm Contact 02 4968008
BurJuman
The mall will be celebrating four days of Eid with a variety of activities and performances to entertain the entire family. The activation area will offer traditional henna design and you can even get your name, or favourite word, written in Arabic calligraphy, while kids can enjoy face painting, pottery and lantern decoration activities.
Location Bur Dubai Cost Free entrance Timings June 25 to 28 7pm to 11pm Contact 04 3520222
Novo Overdrive classic car exhibition
Calling all classic car buffs. This Eid Al Fitr, Novo and Dubai Festival City will be showcasing an 11-day classic car exhibition featuring 8 of rarest and best classic cars out there, 2 of which are featured on the movie Overdrive
Location Festival Square, Dubai Festival City Cost Free Timings June 19 to 30
Modhesh World
Modhesh World is the main destination to go to during Eid to really experience the holiday as a family. Modhesh World features an exciting line-up of activities that will keep everyone happy. New, attractions include a unique Food Park and dedicated zones that will give families the opportunity to go on a journey of adventure and fun.
Location Dubai World Trade Centre Cost Dh20 per persn, free for kids under the age of 2. Timings June 20 to August 12. Eid timings daily from 10 am to 12am. Normal timings: Saturday to Wednesday from 10am to 10pm, Thursday from 10am to 12am, Friday from 12pm to 1am
BiCE Ristorante
Everyone is invited to celebrate Eid Al Fitr with a three-course menu at BiCE which will be open for lunch and dinner. Eid festivities will happen from Monday, June 26 until Thursday, June 29 as well as Saturday, July 1 (excluding Friday Brunch – June30 ).
Location Hilton Dubai Jumeirah Cost Sharing menu concept Dh150 for lunch and dinner Timings Daily 12.30pm to 3.30pm and 7pm to 11.30pm Contact 04 318 2520
BOCA
This Eid break, BOCA is inviting guests to enjoy a seasonal set menu with BOCA's bread, olives, dates and soups, followed by a selection of signature cold and hot tapas, their choice of grilled meat, fish and vegetables served with sides. The meal ends with their signature dessert, water, coffee, tea and jugs of BOCA's refreshing mocktails.
Location DIFC Cost Dh175 per person Timings First 3 days of Eid from 12pm onwards Contact 04 3231833
Cavalli Club
During the Eid break, Cavalli will be serving an Eid Brunch from June 25 to 27. During this three-day Eid celebration, guests can enjoy unlimited food and drinks followed by incredible music to keep you on the dance floor all night long.
Location Fairmont Hotel, Shaikh Zayed Road Cost Dh299 per person Timings 8.30pm to midnight Contact 800 Cavalli (2282554) | 04 332 9260 | 050 991 0400
Crave
This Eid Al Fitr, families and friends are invited for a weeklong celebration with a delicious buffet of Arabic inspired delicacies prepared in an open kitchen.
Location The Walk Cost Dh95 for adults, Free for kids below 12 years Timings Daily for lunch 12.30pm to 3.00pm and dinner from 6.30pm to 11.00pm Contact 04 374 7555
Gaucho Dubai
During the Eid celebrations Gaucho Dubai will be welcoming back its Friday brunch with a Eid inspired atmosphere for the long weekend. They will also host a and a family roast, as well as a Summer Brunch Party! The first day of Eid will have a summer party theme with a floral dress code. The last two days of Eid are more suited for people looking for a relaxing day to treat loved ones to a delicious family roast.
Location DIFC Cost Brunch: Asado – Dh320, Signature – Dh395, Virtuoso – Dh495; Roast: Just Roast: Dh185, 2 courses: Dh215 (Starter/Roast or Roast/Dessert) 3 courses: Dh245 (Starter/Roast/Dessert) Timings 25th June: Brunch 12pm to 3.30pm, 26th & 27th June: Roasts 12pm to 11.30pm Contact 04 4227898
M Hotel Downtown by Millennium
To mark the joyous occasion of Eid Al Fitr, M Hotel Downtown will be serving a family-friendly Eid brunch and grand dinner buffet in their Lemon Pepper Restaurant. Both culinary options will offer international favourites, home-style Arabic delicacies with live BBQ stations and dessert counter.
Location Al Asayel St. Business Bay Cost Dh146 inclusive of soft drinks with optional Dh50 for pool access (Brunch) and Dh130 inclusive of soft drinks (Dinner), 50 per cent off for children below 12 years, Free for children below 5 years Timings June 25 & 26: Brunch - 12pm to 3pm, Dinner - 7pm to 10.30pm Contact 04 4502068
Oceana
This Eid Al Fitr, Oceana restaurant invites everyone over for a sumptuous Eid lunch buffet for friends and family. From Monday, June 26 to Tuesday June 27 they will be offering fresh seafood and grilled meats prepared to your preference.
Location Hilton Dubai Jumeirah Cost Dh145 per person, Free for children below 16 years old Timings Daily 10am to 11pm Contact 04 318 2540
Sass Cafe
Beginning on June 26 , Sass Cafe, the Monte Carlo brand, will be relaunching its "Mondays Made Me" dinner party in grand style to mark the celebration of Eid and welcome back guests to dine on Mediterranean cuisine. The dinner menu will feature favourites like king crab salad, truffle burrata, foie gras terrine, saffron risotto, lobster spaghetti and beef tenderloin and will be served from 7pm onwards.
Location Al Fattan Currency House in DIFC Timings Sunday to Friday 8pm to 2am and Saturday 12pm to 10pm Contact 04 3527722
Tesoro
Celebrate the end of Ramadan with the best of the Indian, Arabic and Mediterranean cuisines for brunch. From classic ceviche, flavourful barbeques to traditional and lavish Arabic desserts as well as pancakes and a dedicated ice cream station.
Location Taj Dubai, Taj Burj Khalifa Street Cost Eid standard buffet package with selected soft beverages at Dh210 per person, Bubbles package at Dh495 per person and Kid's Package at Dh95 per child Timings Eid weekend from 1pm to 4pm Contact 04 4383111
The Grape Escape
This Eid Al Fitr, The Grape Escape invites foodies from Monday until Friday, to a daily culinary discovery featuring European all-time favourite dishes. These will be presented on five different themed evenings.
Location Hilton Dubai The Walk, LP Level Cost Dh149 for unlimited food and 1 select beverage per person Timings Daily 7pm to 11pm Contact 04 374 7666
Zero Gravity
The beach area will re-open and the famous pool will be the place to party this Eid. On both Sunday and Monday, Zero Gravity will give away free goodie bags to the first 50 ladies through the door each day to keep them cool throughout the summer.
Location Dubai Marina, Skydive Dubai Drop Zone Cost Dh200 (Dh150 back on food and drinks) Timings 10am to 3am Contact 04 3990009 | 055 5009086
Hilton Abu Dhabi
A range of events is happening this Eid across four of this hotel's top food and beverage venues.
La Terrazza is an all-day dining restaurant, with a grand brunch featuring traditional Middle Eastern delicacies.
Cost Dh185 (with unlimited water and soft drinks) Timings Brunch: 12.30pm to 3.30pm Contact 02 692 4247
Escape will offer guests an Eid-special BBQ with unlimited soft drinks and free pool and beach access.
Costs Dh204 per person Timings 12.30pm to 4pm Contact 02 692 4247
Stars 'n' Bars
They will be throwing a special Eid party with free beverages for ladies and DJs all night alongside the sports bars menu of American classics and international dishes, multi-screen entertainment, games and outdoor terrace.
Location Yas Marina Timings 11.30am to 2am Contact 02 5650101
Majid Al Muhandis free concert
Regional music icon Majid Al Muhandis will perform at Dragon Mart 2 on June 22 , as part of the 'Eid in Dubai' celebrations
Location Dragon Mart 2 Cost free Timings June 22 from 6pm to 9pm
Mohammed Al Shehhi at Dubai Opera
Local RAK naitive Mohammed Al Shehhi will continue the Eid celebrations with a concert to be held at Dubai Opera.?
Location Dubai Opera Cost Dh150 per person Timings June 30 from 10pm onwards Contact 04 4408888
Shop, Spin and Win
The popular promotion, 'Shop, Spin & Win' run by Dubai Shopping Malls Group with the support of Dubai Festivals and Retail Establishment, means that if you spend Dh200, you will have the lucky chance to win instant prizes worth Dh250,000 in a game of spin the wheel. A few of the lucky shoppers will win cash and luxury gifts, worth anywhere between Dh2000 to Dh25,000.
Locations City Center Shindagha, Oasis Mall and Burjuman Mall Cost Spend Dh200 for a chance to win
Shop and Win
Head down to the Mercato Mall this Eid and shop until you drop some great discounts at some of your favorite stores. Spend Dh200 at Mercato or Town Centre Jumeirah between June 22 to 28 and you will be entered into a raffle for a chance to win a luxury family weekend stays at Rixos The Palm, air wheel scooters from Virgin Megastore, gift hampers from Anfasic Dokhoon and Damas Jewellery gift vouchers.
Location Mercato and Town Centre Jumeirah Cost Spend Dh200 for a chance to win Timings from June 22 to 28
Bazaar Al Mazyoona
Bazaar Al Mazyoona is an upscale market that displays the latest designs in Abayas, Jelabiyas and jewelry designed by regional designers. Visitors can enjoy exclusive Eid Al Fitr shopping offers across all stores.
Location The Brass Piazza Outlet Village Cost various Timings June 22 to 30