Education needed to drive the use of electric cars in UAE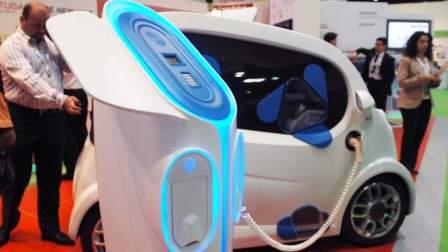 Public awareness and education on electric vehicles (EV) usage must complement the government's efforts in introducing incentives and investing in infrastructure, experts said.
The UAE has been heavily investing in importing eco-friendly cars and replacing fuel vehicles in government entities' fleets, while introducing attractive incentives for the public to achieve at least a two per cent electric or hybrid vehicles target in Dubai by 2020 and 10 per cent by 2030.
While Dubai's e-car infrastructure is said to be better than global cities, the biggest challenge in the country isn't a connected infrastructure, as much as educating people on the importance of shifting to eco-friendly cars.
The Dubai Electricity and Water Authority (Dewa) has so far installed 137 EV Green Chargers in malls, airports, residential, petrol stations, residential complexes and commercial offices, working to increase this number to 200 by the end of this year, with each station capable of charging two cars simultaneously. Abu Dhabi National Oil Company plans to raise its 12 charging stations to 20 in the Capital.
Yet the public remains hesitant to buy an electric car given its high price and low market supply. Ben Pullen, co-founder and managing director of Global EVRT, said besides saving the environment, electric cars are faster, smoother and cheaper to drive.
"People are usually concerned about the driving experience, but the technology and experience of driving an electric car is much more efficient, making the acceleration smoother and faster than a fuel vehicle," said Pullen.
Electric car users receive 70 free parking spaces in 40 paid parking zones across Dubai, free car charging until end of 2019, free Salik tags and exemption of the Roads and Transports Authority (RTA) vehicle registration and renewal fees. Eco-friendly cars produce 33 per cent less carbon emissions compared to other cars.
Despite the high cost of purchasing an electric vehicle, its long-term cost-effectiveness makes it an investment. Buying an eco-friendly car in instalments is possible, especially if users are aware that they will save huge amounts of money on the long run amid the escalating fuel prices and high maintenance costs of fuel vehicles, Pullen said.
While Dewa has set the tariff for charging an e-vehicle at Green Chargers at 29 fils per kilowatt, an e-car can last up to a week without charging if a driver travels 50km per day, with no extra charges spent on parking or Salik tags.
"With the current e-car infrastructure, people can easily drive from Abu Dhabi to Dubai for example. People can have their own charging stations at home or in the office, another privilege that isn't present in a fuel vehicle."
Global EVRT recently installed over 20 charging stations in Abu Dhabi, Ras Al Khaima, Fujairah, Dubai and Oman.
Charging a Renault electric car costs Dh7, as compared to fueling a petrol-powered Renault with about Dh120, and a Tesla car can cost up to Dh29 compared to over Dh200 of fuel. A standard residential electricity rate applies if a car is charged at home.
Pullen said a main challenge, however, remains the low number of e-cars available in the market due to the hesitance of manufacturers about the demand.
Despite the low number of e-cars, a Dewa study suggested that incentives and awareness will help Dubai witness a surge in eco-friendly cars sales to 32,000 by 2020 and 42,000 by 2030. The aim is to make electric cars reach 2 per cent of Dubai's vehicular fleet by 2020 and 10 per cent by 2030.
Govt entities' use of e-cars
Some government bodies such as Dewa have already purchased a number of electric cars for its fleet for everyday use. Dewa was the first government entity in Dubai to add 100 per cent electric vehicles to its fleet by adopting 13 electric vehicles in 2015-2016.
The UAE also signed a contract for 200 Tesla Model S sedans and Model X SUVs, equipped with autopilot software. Meanwhile the RTA is replacing 50 per cent of the city's taxi fleet with eco-friendly vehicles by 2021. Currently, around 20 per cent of the taxis are hybrid.
Dubai Municipality's fleet is 10 per cent hybrid or electric cars after receiving 20 Toyota Prius cars recently. The municipality dedicates 25 per cent of its budget to using electric cars within the organisation to reduce carbon emissions, cut down maintenance and operation cost, and reduce harmful emissions.
The vehicles are operated by integrating their gasoline engines with an electric motor and a large hybrid battery, which is charged continuously when braking and decelerating.
The hybrid system mates an electric motor that provides power at low speeds with an engine that delivers it at high speeds. The integrated generator charges the battery while driving. This stored energy has the capacity to cover a distance of 700km to 1100km. The rate of emissions reduction will range between 36 per cent to 74 per cent during the first 50km covered by the vehicle.
Authorities aim to decrease carbon emissions by 16 per cent by 2021, which is why the government stated that 10 per cent of cars purchased will be electric or hybrid cars.
According to 'Technologies for Future Smart City Transit', brought out by Masdar in collaboration with Bloomberg New Energy Finance (BNEF) back in January, global electric passenger vehicle sales grew 57 per cent between 2015 and 2016, spurred by the fall in lithium battery prices that dropped by 79 per cent between 2010 and 2017.
The global cumulative number of public EV charging points increased from under 100,000 in 2012 to over 360,000 in 2016, signifying the leap in smart transportation solutions adopted by cities across the world.