Dubai property absorbs Dh285 billion in 2017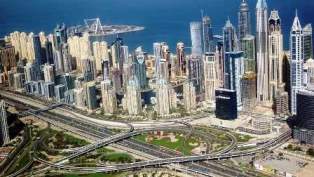 Dubai registered 69,000 real estate transactions exceeding Dh285 billion in 2017, according to the Dubai Land Department (DLD). This compares to property transactions worth Dh259 billion entered through 41,776 deals in 2016.
The rise in transactional volumes and value was owing to the boom in demand for off-plan properties in 2017.
Sultan Butti bin Mejren, director-general of DLD, said: "The figures for total transactions, including sales, mortgages and others, confirm the current strength of the Dubai real estate market."
"Twelve months ago, the residential ready market was witnessing stabilisation and bottoming out in some cases. Off-plan developers took notice and began to offer competitive payment plans, many of which spanned beyond promised handover dates. While this has led to a short-term delay in an expected overall market price recovery, it has also led to a 45 per cent annual increase in off-plan home transactions, resulting in a 26 per cent annual leap for overall residential unit sales. Therefore, these figures come as no surprise given the current nature of Dubai's buyer market," observes Haider Tuaima, head of real estate research at ValuStrat.
The sales of land, buildings and units in the Dubai real estate market totalled Dh114 billion through 49,000 transactions, while mortgages for the same three categories reached Dh138.5 billion through 15,700 transactions. There were approximately 4,000 other transactions valued at approximately Dh33.3 billion.
"The DLD figures affirm what we have been saying throughout the year: despite the gloom and doom prognostications on offer by the analyst community, transactions have continued to increase steadily, defying expectations. Some of the reasons are well-known: post-handover payment plans and return guarantees have spurred investment in the off-plan areas," says Hussain Alladin, head of IR and research at Global Capital Partners.
The breakdown
UAE investors led the list of nationalities investing in Dubai real estate, committing Dh25.3 billion (Dh22 billion in 2016). Indian investors stood second by investing Dh15.6 billion (Dh12 billion). Saudis came in third place with investments exceeding Dh7 billion, followed by British and Pakistanis whose investments amounted to Dh6 billion and Dh5 billion respectively. Other active investors include Chinese, Jordanians, Egyptians and Canadians.
Gulf-based investors deployed worth more than Dh37 billion while other Arab investors clinched deals worth over Dh14 billion. Foreign investors committed Dh56 billion in 2017 while women investors channelled over Dh27 billion.
Areas in demand
The favoured investment destination in 2017 was the Burj Khalifa which attracted Dh7.36 billion in sales. Business Bay followed with 3,763 transactions worth Dh7.12 billion, while Dubai Marina took third place with 3,300 transactions worth nearly Dh7 billion. Hadaeq Sheikh Mohammed bin Rashid came in fourth place with 1,948 transactions worth Dh5.672 billion and Al Barsha South Fourth ranked fifth through 3,138 transactions worth around Dh4 billion.
"Madinat al Mattar [Dubai South] has seen a surge of transactional activity, as has Meydan. These are indicative of the interest in newly developing communities that are now taking centerstage in the minds of investors. This highlights the growing investor appetite that is not only there for Dubai real estate, but specifically for developing areas [the suburban effect]," points out Alladin.
Palm Jumeirah witnessed the most mortgage-backed purchases with 731 transactions exceeding Dh12 billion, followed by Business Bay with 769 transactions worth nearly Dh6 billion. Dubai Marina ranked in third place with 1,127 transactions worth over Dh3.7 billion, Al Barsha South Fourth came in fourth place with 670 transactions worth over Dh2.6 billion and Burj Khalifa placed fifth with 545 transactions worth over Dh2.5 billion.
"We have also witnessed a surge in mortgages, crossing the tipping point, where more than half of the overall activity has been done through the mortgage market. This attests to the appetite of the banking sector in terms of asset-backed financing," adds Alladin.