Dubai has sweet treat for Game of Thrones fans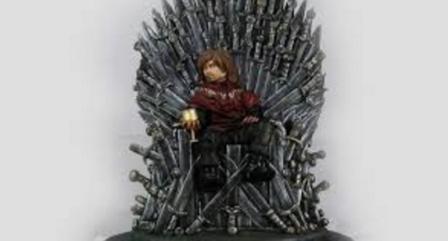 While many of us are probably counting the days so we can finally see the Season 7 premiere of the hit TV series, Game of Thrones (GoT), cake artists at BroadwayBakery.com have prepared a sweet treat. They created a four-foot high fondant cake featuring Tyrion Lannister, Hand of the Queen of the Andals (Daenerys 1, also known as Khaleesi)
The elaborate craftsmanship includes detailed modelling of Tyrion's probing face while he's seated on the Iron Throne, dressed in his regal outfit and holding a cup.
The Lannister cake has been sold at a whopping price of Dh100,00 but a marketing staff at BroadwayBakery.com told Khaleej Times that orders can still be placed online from the seven kingdoms, er, emirates. It took three weeks for the cake artists to finish the fondant (thick paste) work but the cake was baked fresh before it was delivered.
The cake artists paid close attention to details with each component - from the thousand swords which made up the Iron Throne to the golden locks of Tyrion (played by Peter Dinklage who stands at four feet and five inches in real life) - carefully crafted and painted to give it a picture perfect finish.
Tyrion was also dressed in his distinctive red jacket with intricate gold artwork. His face is covered with stubbles and there is also a scar up his cheek and on the bridge of his nose which he got after the bloody Battle of Blackwater in GoT's season 2, episode 9.
But is the cake entirely edible?
"Yes, generally fondant cakes are completely edible. Due to the complex nature of this design, we've only used sugar fondant and sugar paste. These would harden and become tough over time so it wouldn't be recommended to eat it," said the staff at BroadwayBakery.com
The cake weighs 32kg and can serve up to 120 guests. "The cake inside is our signature chocolate flavour, but we can customise it to be any of our bestselling flavours," he added.
Orders can be placed on toll free number or through the email id of the BroadwayBakery.com. The Game of Thrones Season 7 premieres on July 16.