Dubai breaks 15 world records in 30 days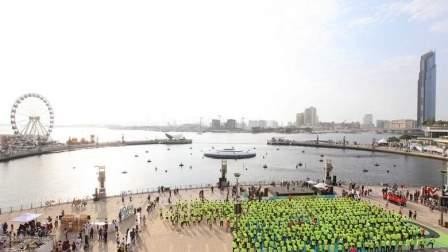 It seems like breaking records, and achieving the impossible has become an everyday routine for the Emirate. Guinness World Records has revealed that Dubai residents and government departments broke 15 world records during the 30-day Dubai Fitness Challenge.
"Being in Dubai, the record-breaking hub of the Middle East, we see a large number of records being broken every day," Leila Issa, Marketing Manager, Guinness World Records.
From sorting out coloured balls to pulling a heavy aircraft, the records were broken in Dubai in the past 30 days also include largest wheelchair race and most jumping-jacks in 30 seconds. "We are always happy to witness such amazing accomplishments, especially when it has such strong messaging such as fitness and health wellness," added Issa.
Dubai Police alone broke three records, the most incredible one being 56 officers of Dubai Police succeeded in pulling an Emirates Airlines aircraft weighing 302.68 tonnes, for 100 metres. Issa stated, "The best part of being part of Guinness World Records is the amazing feats that people achieve every day, nothing is ever out of the ordinary of us."
However, the most number of records were broken at the Guinness World Records Live! Events, which took place at two consecutive events during the fitness challenge. "Guinness World Records Live! was first launched right here in the heart of Dubai in Global Village. It is an entertainment set up that was designed for leisure destinations - shopping malls, festivals, racetracks etc," she said. "It allows visitors kids, families and friends anyone of any age to train, attempt and break fun records," she added.
Italian national Nicola Spessato, who holds the record for 'Fastest time to sort 30 coloured balls with one hand (15.159s) said, "It was really fun even attempting it. I didn't do it thinking I'll make it to the book of records, but mid-way through the challenge is when it dawned on me that I am breaking a record. it felt really amazing," he said.
Dubai Police Records
1. The heaviest aircraft pulled over 100m pulled by a team(male)
2. Most people performing burpees
3. Largest wheelchair race
Guinness World Records at the Dubai Fitness Challenge at Sky Dive Dubai
Most jumping jacks in 30 seconds The record was broken 3 times and 3 current record holders: Osama Fawzy, Ahmad H, and Kiran Lines achieved 53 jumping jacks
Fastest time to sort 30 coloured balls with one hand 15.159s was broken by Nicola Spessato
Most aerobic step ups in 30 seconds Marwan Tariq Salim Mohammed Ali 51 step ups
Guinness World Records at the Dubai Fitness Challenge at Dubai Festival City
Most side to side hops in 30 seconds Kushtrim Hetemi from Kosovo 99 hops
Fastest time to complete 50 football passes by a team of 2 Kushtrim Hetemi and Labinot Zaneli from Kosovo in 27.30 seconds; broke the record twice
Most beach Paddle ball passes in one minute by a team of 2 Labinot Zaneli and Rustem Ahmetihekaj achieved 130 passes in 1minute