Dubai break record for largest parade of horses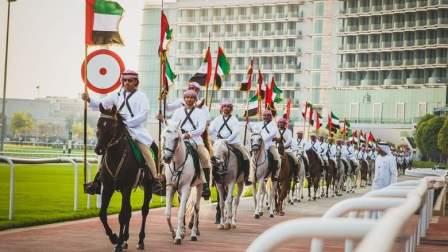 Dubai Police set yet another world record on Sunday, in celebration of the 46th UAE National Day.
The Dubai Police forces broke the Guinness world record for the largest parade of 116 horses with UAE flags from the Dubai Police stables at the Meydan Grandstand and Racecourse.
The previous record was set with 105 horses in Spain in January 2004. Through Sunday's parade, the Dubai Police have broken a lasting record that stood for the past 14 years.
This is the second record the Dubai Police broke during the celebrations, as the security forces set a new Guinness world record on December 2 by forming the largest synchronised car dance featuring the colours of UAE flag with 143 cars in the form of a smiley emoticon, breaking the previous record set up by Pepsi in Dubai with 121 cars in 2015.
Major General Abdullah Khalifa Al Marri, commander-in-chief of Dubai Police, said the initiative was meant to deliver the message to the society segments that the police is part of the community.
"It is a community police whose aim is to spread the feeling of security and safety among its members. We are here to tell people that we are part of them, that we are always present among them and that we are here for their safety," said Al Marri after the official record-breaking announcement.
Major General Al Marri and Saeed Humaid Al Tayer, chairman of Meydan City Corporation signed a Dubai Police shirt that will be hung on Meydan premises to mark the occasion.
Maj. Gen. Al Marri added that since the Dubai government is always seeking to be on the top, all government initiatives are headed towards this direction. "We wanted to achieve something new to the world on the National Day."
He also noted that the parade is also a message of love, peace and tolerance from the Dubai to the world.
The largest parade was a collaboration with Meydan City Corporation that organised a full day of activities for all ages, featuring a live music Emirati performance band, the Dubai Police latest supercar and motorcycle fleet displays and a dog show by the Dubai Police Canine Division.
The area was bustling with activities of traditional souq and heritage zone and a dedicated children's area with face painting, an inflatable obstacle course, a bouncy castle, arts and crafts, balloon bending and magic, puppet and bubble shows. Stilt walkers, jugglers, UAE mascots, unicyclists and clowns dressed up in the national colours of black, red, green and white gave visitors great photo opportunities to remember the day.