Bollywood Actors among top 10 highest paid actors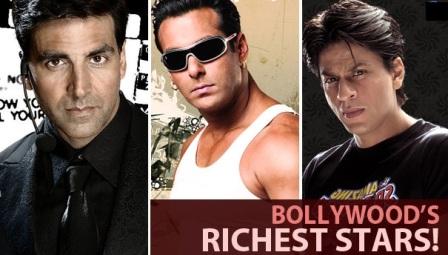 Like every year, the much awaited Forbes' list of highest paid actors in the world is out now, and the good news is that three Bollywood actors - Shah Rukh Khan, Salman Khan and Akshay Kumar - are in the list of top 10 highest paid actors.
Mark Wahlberg, the year's highest paid actor, earned an estimated $68 million in 2017, as Forbes announced on Tuesday.
While Shah Rukh Khan is at number eight, followed by Salman Khan and Akshay Kumar at number nine and ten, respectively. According to Forbes, the 'Raees' star earned $38 million (Rs 243.50 cr), the 'Tubelight' star made $37 million (Rs 237 cr) and the 'Rustom' star took home $35.5 million (Rs 227.5 cr).
According to Forbes, the top 10 actors banked a cumulative $488.5 million--nearly three times the $172.5 million combined total of the 10 top-earning women. While only three actresses made more than $20 million in 12 months, 16 actors broached the mark.
According to the magazine, it has collected the data over a period of 12 months starting from June 1, 2016.
The rapper-turned-actor knocked 2016 leader Dwayne 'The Rock' Johnson into second place, with estimated 2017 earnings of $65 million.
Actor Vin Diesel ($54.5 million), Adam Sandler ($50.5 million) and Jackie Chan ($49 million) stood at third, fourth and fifth on this list.
Iron Man star Robert Downey Jr and Tom Cruise came sixth and seventh before Indian actors took over the list.
However, actress Emma Stone leads the race of the highest paid actresses on number 15 in the world, but her earning of $26 million was nowhere close to the highest paid actors.