Amazing things to do this weekend in the UAE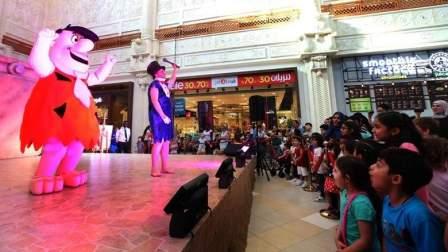 A lot of interesting events are set to be held across the UAE this weekend. We select some of the best events to make it an exciting week for you. Here are our pick of events to check out this weekend.
Milkshake madness
For those hailing from abroad, has it ever struck you as odd that you can't get a McDonald's milkshake in this town for love nor money? Not anymore. Come Saturday a chocolate Oreo or strawberry ice cream milkshake can be yours for Dhs11. What a way to cool down.
Last chance saloon
Don't miss your chance to make the most of Dubai Summer Surprises, with a final week of specials and fun, on now until Saturday! There'll be superhero meet-and-greets with Marvel Characters and dinosaurs from IMG World of Adventures at Souk Atrium on the Ground Floor, between 6pm and 9pm on Thursday, Friday and Saturday as well as bargains galore across The Dubai Mall's over 1,200 retailers.
Rhodes to success
British Chef, Gary Rhodes has unveiled a new à la carte menu at Rhodes W1, Grosvenor House Dubai. The line-up features wholesome British classics with a touch of Anglo-French cuisine such as beetroot and goat's cheese; layered beetroot and peppered goat's cheese cake, avocado cream, marinated kohi rabi and peanut brittle dressing and red mullet; rich red mullet soup, sweet red peppers and leeks. Delicious.
Ninja rap
Cowabunga! Michelangelo, Leonardo, Donatello and Raphael have upon Al Ain for the Abu Dhabi Summer Season this weekend. The Teenage Mutant Ninja Turtles Green and Extreme activation is set up at Al Ain's Bawadi Mall from 5pm - 10pm, while the shelled action heroes will take to the stage from 5pm - 5.30pm for the first show, 7.30pm - 8pm and 9.30pm - 10pm for the second and third shows respectively.
Get cooking
Why not try The Chef's Palette cooking classes at Fairmont The Palm, for a unique range of cookery events? With a range of culinary experiences available, you can opt for an eight-course ultimate fine dining experience; four to six course dinner with wine pairings 'chefs table style'; or a three-course cookery master class where our Michelin trained Chef Romain van Durmen will help you prepare a delectable array of gourmet dishes before tucking in to whatever you've created.
Learn social values
Nickelodeon has launched "Nella the Princess Knight: Kingdom Adventures," an app featuring a suite of games based on social-emotional lessons taught in the hit Nick Jr. series Nella the Princess Knight. In the spirit of the show, the game leans on princess-and-knight heroine Nella to inspire girl empowerment, self-confidence, resilience and compassion. It's available in 12 languages too.
X marks the spot
Last Exit 'Mad X' opposite Last Exit E11 on Sheikh Zayed Road opens tomorrow! The fourth Last Exit destination will welcome the hungry and curious travelling from Dubai to Abu Dhabi 24 hours a day, seven days a week. The new post-apocalyptic Last Exit 'Mad X' will find war rigs, monster trucks and abandoned cars. One of the most striking features of the new destination is that most of the materials used have been sourced from recycled wood, scrap metal, wires, cables, pipes and cars, among others. Food trucks will include cuisine ranging from burgers to bao buns, to Thai and Indian street food, and Southern fried chicken.
Shell out
The Shellebration continues as Pierchic reaches the half way mark or its time at sea promotion. Taking us to the south-western shores of Europe, the restaurant arrives on the beautiful Portugal coast, docking for two weeks until August 19. Try the Cataplana de Peixe y Marisco, a Portuguese shellfish and fish stew. Incorporating the traditional ingredients of sautéed monk fish, prawns, clams, and vegetables prepared in a cataplana pan, the unique dish is a true symbol of the Algarve's heritage, inextricably linked to the presence of Arabs from North Africa in the Algarve many centuries ago.
From Switzerland with love
Superstar Swiss DJ Tanja La Croix is in Dubai tonight! You're not going to want to miss her spin her tunes at Boa Lounge at the W Dubai for it's Epic Thursday night. A popular name on the circuit, she's known for her appearances on Fashion TV and F1 after-parties as well as high profile Ibiza clubs. Where: W Dubai
Get Sassy
The Monaco club based right in DIFC brings you live music to play out the weekend. Providing the musical accompaniment for the restaurant's Sassy Dinner, the band let's you decide what they play and, if you dare, they may even let you join in. Where: Sass Café
All that jazz
The multi-talented Katie Thiroux and her accompanying band are playing jazz to the hilt at Quincy Jones' Dubai joint, Q's Bar and Lounge at the Palazzo Versace Dubai. Katie's voice channels legendary jazz singers such as Ella Fitzgerald and Ankita O'Day. Superb. Where: Palazzo Versace