Ajman Ruler honours woman who saved driver with abaya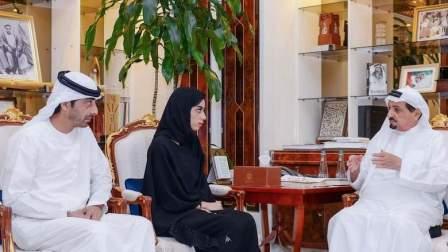 His Highness Sheikh Humaid bin Rashid Al Nuaimi, Member of the Supreme Council and Ruler of Ajman, on Monday honoured Jawaher Saif Al Kumaiti for her humanitarian efforts and her bravery, heroism and quick thinking, which saved the life of an Asian driver.
Al Kumaiti acted quickly to save the driver's life after a road collision, which caused his truck to burst into flames and his clothing to catch fire.
Sheikh Humaid expressed his pride in the humanitarian role of Emirati girls in helping others while praising the good citizenship of Al Kumaiti, who acted quickly to extinguish the fire on the truck driver's clothes without hesitation and saved his life.
During her meeting with Sheikh Humaid, Al Kumaiti explained that her actions could be considered as charity and humanitarian work as she rescued a person in dire need of assistance. She also stressed that she did not hesitate for even a moment while saving the driver's life and did not leave the area until she was certain that his condition was stable. She also wished for greater safety among all members of society and road users.
The ceremony was attended by several sheikhs and senior officials.