98% UAE residents happy with security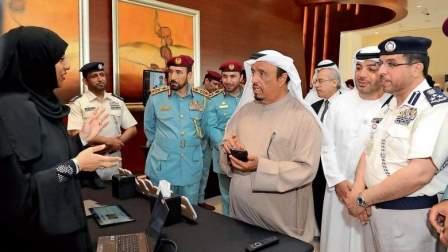 The UAE took a long way in beefing up and developing its human rights records, top officials said during a human rights forum held in Dubai on Sunday.
The UAE Ministry of Interior (MoI) organised the Human Rights Forum themed 'Efforts and Protection' under the patronage of Lt General Sheikh Saif bin Zayed Al Nahyan, Deputy Prime Minister and Minister of Interior.
"The country has also fulfilled its regional and international obligations and contributed, as being a member of the UNHRC, to supporting the UNHRC to carry out the entrusted duties," said Ahmed Abdulrahman Al Jarman, Assistant Foreign Minister for Human Rights and International law.
As part of its effort to boost and maintain human rights in the country and its outstanding participation in regional and international events, the Ministry of Interior helped feature the country's records in this field and has met all regional and global obligations, Al Jarman added.
He said the UAE has ranked 1st, topping all Arab countries, and 21st globally in the Happiness index, according to the World Happiness Report for 2017. The UAE also topped the Middle East region and ranked 33rd globally in the World Justice Project Rule of Law index for 2016.
He added that the UAE in the past four years issued a series of federal laws that contributed to shoring up human rights, most importantly, anti-discrimination and hatred law; Child's Rights Protection law, Wadeema law, and a law on domestic help.
Al Jarman said the UAE signed a number of memoranda of understanding on anti-human trafficking with several countries, coordinated with the international police 'Interpol' and other concerned world organisations on combating human trafficking.
Police puts human rights first
Brigadier Mohamed Ali Al Shehhi, deputy director of the MoI's human rights department, other MoI department officers and police officials presented the most important human rights initiatives, which upheld protection of prisoners and spread the culture among its employees.
At the end of the forum, Al Shafaar, accompanied by Lt. Gen. Dhahi Khalfan Tamim, Deputy Chairman of Police and General Security in Dubai, and Brigadier General Ahmed Mohammad Nakheera, director general of Regulatory Affairs at MoI, honoured a number of partners from ministries, departments and institutions concerned with human rights in the country.
Lt Gen Tamim was particularly honoured for his distinguished efforts and his role in establishing the first specialised unit in the field of human rights in police work in 1995, besides the adoption of new concepts that endeared the police forces to the public and removed any fear from their minds about their authorities.
The forum was also attended by Lt General Saif Abdullah Al Shafaar, Undersecretary of the Ministry of Interior; Major General Ahmed Nasser Al Raiyessi, Inspector General of the MoI, as well as a number of Federal National Council (FNC) members and senior police officers of the UAE, and delegates of federal and local government bodies concerned with human rights.
A documentary film about the UAE's efforts in human rights was also shown during the forum.
We live in the most secure country'
We are proud that statistics show that 97.9 per cent of UAE residents are satisfied about the safety and security in the UAE. They live in the most secure and safest place, where their rights are protected," Lt Gen Dhahi Khalfan said.
Inmates turn innovators and authors
Brigadier General Ali Al Shamali, director of the General Department of Punitive and Correctional Establishments of the Dubai Police, told that prisoners are being trained to have a positive mind-set for reintegration into society and finding jobs, after their jail terms.
Captain Mohammed Abdullah Al Boabdil, director of the learning and training section at Dubai Central Prison, highlighted the example of a Bulgarian prisoner serving a life term on a drug-related issue, who invented a device and registered a patent. He created a device costing Dh40,000, that can generate power using gravity and the Dubai Police has contacted concerned authorities to implement the project.
Among other cases are an Arab prisoner who is a PhD holder in agriculture, who has invented a method to turn fish waste into fertiliser and a smart growpad for growing organic plants.
An Afghani prisoner has invented a device that can be placed on roads to utilise air movement to generate power, at a cost of just Dh2,000.
Twelve prisoners have also written books and novels, Capt Al Boabdil revealed.
Giving prisoners new lease of life
Mohammed Omar Al Majid, owner of his namesake group of companies, said that 100 prisoners made desert cars in one year, after getting trained in five courses. These desert cars, designed by his group, have a 4 cylinder engine and 110 horsepower. His company tied up with the General Department of Punitive and Correctional Establishments of the Dubai Police, for the project. In cooperation with the Mohammed Bin Rashid Establishment for Young Business Leaders, and the Community Development Authority of Dubai, Al Majid is also proposing a new initiative to sponsor trained UAE nationals among prisoners, to start their own businesses, if they fulfil certain criteria.s