600 Dubai typing centres stop processing family visa applications; this is where you should now go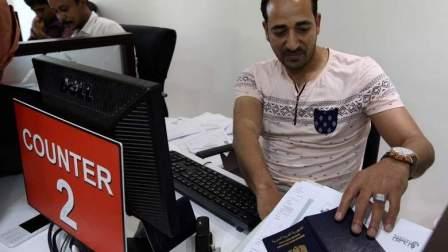 Visa processing at some typing centres in Dubai has already stopped, as 50 new smart centers, Amer, are set to replace all typing centres starting November
General Directorate of Residency and Foreigners Affairs (GDRFA) earlier announced that 50 Amer centers, a one-stop shop that allows residents to complete all visa and residency transactions under one roof, will replace 600 typing centres from November 1.
On Wednesday, many typing centres across the emirate reported that the system used for typing residence visa applications was accordingly disabled. Typing centres will no longer be able to process visa applications.
Asif Mahmoud, manager of Al Arsa Typing Center, told Khaleej Times that typing centres were notified that as of November 1, their visa application process system will be disabled.
"Our system for processing visa applications was disabled today (Wednesday). From now on, people can only approach Amer centres for family visa processing," said Mohammed.
Al Dana Documents Clearing (Typing Centre) in Dubai also reported the blockage of their visa processing system. A customer service representative confirmed that family visa applications will no longer be processed through typing centres. "We will lose a lot of customers who come and type their family visa applications, after this decision," the representative said.
However, Asif Khan, manager of The One Documents Services in Dubai, said their system is still working. "Many of our neighbouring typing centres reported that their system has stopped working, but luckily for us our system did not stop yet," said Khan.
He added that GDRFA informed typing centres a year ago that Amer will replace their services, while sending them notifications every three months that visa processing will come to an end starting from November 1.
Khan said small printing centres will be mostly affected by this as GDRFA has put specific space and facility requirements to continue such services. A minimum of 4,000 square scale fit is to be provided as a condition to enable typing services to continue processing visa applications. "Big printing centres designed according to GDRFA requirements will not be affected by this decision," Khan clarified.
With small printing centres already stripped off their role of finishing Emirates ID card applications and medical fitness tests, the halt of visa applications will be a major blow, said Khan.
Mohammed Nidash from Happy Way Typing Centre in Dubai said although GDRFA gave a deadline for visa applications services, their systems still continue to work. "We are still receiving customers who are applying for visa renewal or visa issuance, but we expect the service to stop in the few coming days as it did with other printing centres," said Nidash.
He confirmed that GDRFA notified the staff of all typing centres about the disable of visa applications starting November 1.
Where to go to apply/renew visa
Amer Centres, launched to simplify transactions and increase efficiency, will replace typing centers while enabling residents to finish off many services in one go.
It will provide services including issuing entry permits, issuing or renewing residency visa, visa cancellation among other related services provided by other government institutions and departments. Amer centres are expected to reduce processing time and efforts by the applicants as they are no longer required to visit GDRFA offices to apply or cancel their residency visas.
There are currently two Amer centers through which residents can finish visa and residency transactions; the first one was opened in Al Muhaisnah 4 area in May, while the second was inaugurated earlier in October at Al Kifaf Municipality center.
More such centers will be opened in different locations across Dubai to provide many services for centers in one place with no increase in transaction fees or documents required for residency and visa transactions.
Major Salem Mohammad Ali, director of Client Happiness Centre at the (GDRFA), had previously told Khaleej Times that an Amer centre should be able to handle at least 5,000-6,000 transactions daily.
"With this expected volume, each centre requires big space," he had noted.
"If all necessary documents are provide, a transaction can be finished at the earliest in less than half day or maximum of 48 hours if a courier is required," Ali had said.