4 Bollywood star kids to watch out for in 2018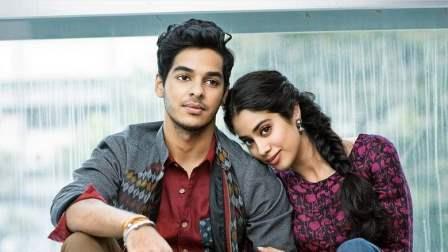 The year that's about to conclude may not have been particularly remarkable for what are termed "sensational debuts". Come 2018, though, the Bollywood star club is expected to be abuzz with newcomers.
At least four of the upcoming first-timers are already sparking news on every social media website and newspaper. Every little breath they take, every moment they are seen in public - be it at a swishy restaurant, gymnasium or at Mumbai's airport terminal - is monitored avidly.
The paparazzi simply loves them. And going by their swelling fan following, particularly on Instagram, their bespoke Bollywood launch projects are more than likely to induce whopper ticket sales during the key opening weekend. Inevitably, the marketing - read publicity - strategy is carefully calibrated to make them the next big things in the star firmament.
Not surprisingly, all the four top candidates for stardom belong to film families. Now before you bring up nepotism, let me just say that issue will always remain open to an inconclusive debate. For sure, a visa to Bollywood has been relatively easy for scores of star kids down the decades. Yet, many of them have faded out unceremoniously, since they couldn't effectively assert either their acting calibre or strike a palpable screen presence. Moreover, odious comparisons with their forebears have been endemic.
Suffice it to say, then, the newbies have to prove they can do justice to the opportunities assigned to them. The audience can sometimes be absolutely ruthless when a star son or daughter doesn't measure up to the great expectations.
I'm not making a case or apologising for star kids. It's just that the phenomenon has been as old as the medium of cinema itself, whether you're tracking the star systems of Bollywood or Hollywood.
Without much ado, here's over to the foursome who will make their bid for fame and fortune in the rarefied realm of Bollywood next year.
Ishaan Khattar
The 22-year-old son of theatre and TV actress Neelima Azeem, and half-brother of Shahid Kapoor, has already earned laurels - the Best Actor Award at the Bosphorus Festival in Istanbul - for his first adult role in Iranian auteur Majid Majidi's Beyond the Clouds, set in the Mumbai slumsides. As a child actor, he had co-starred with Shahid in Mahesh Manjrekar's Vaah! Life Ho Toh Aisi (2005), a feather-light drama that went under the cracks at the box office.
He has also served as an assistant to director Abhishek Chaubey during the filming of Udta Punjab (2016), which featured Shahid Kapoor in an award-winning role.
Ishaan's big ticket to Bollywood, Dhadak, is being produced by star-maker Karan Johar's Dharma Productions, and has commenced shooting in Udaipur. Writer-director Shashank Khaitan, who gave Varun Dhawan and Alia Bhatt their hit flicks Humpty Sharma Ki Dulhania (2014) and its follow-up Badrinath Ki Dulhania earlier this year, has adapted the obstacles-strewn love story from Sairat (2016), the highest grossing Marathi film ever. Intensely dramatic and replete with several departures from the hackneyed formula stuff, here's a film that promises to pack in an emotional wallop.
Janhvi Kapoor
The 20-year-old daughter of Sridevi and Boney Kapoor teams up with Ishaan in Dhadak. The coming-of-age role of a high-caste girl who elopes with a down-at-heel boy demands a certain complexity, as well as the downplaying of the glamorous quotient mandatory for a debutante. Auspiciously, Janhvi has chosen to take this tough route, although she could have easily been introduced by her father who has a production banner of his own.
Coached at the Lee Strasberg Institute of Theatre and Film, Los Angeles, Janhvi is known to be a confident girl, who wasn't rattled by rumours linking her with the grandson of a politician. Undoubtedly, once Dhadak is released on July 6, it will be asked if she has the super-heroine qualities of Sridevi. The answer to that, of course, will be determined by her performance as a girl who opts to defy the societal norms over the cocooned lifestyle of landed aristocracy.
Sara Ali Khan
The 23-year-old daughter of Amrita Singh and Saif Ali Khan was bound to join the movies. Well-mannered, she has fielded her parents' separation with maturity. A graduate from Columbia University, initially she was to be introduced in an official remake of Hollywood's The Fault In Our Stars (2014). The adapted version, to be helmed by the popular casting director Mukesh Chhabra, was to be funded by 20th Century Fox studio. For inexplicable reasons, the film didn't take off the ground.
Next, Sara was supposed to make her debut with Dharma Productions' Student of the Year 2. Reportedly, her mother didn't wish to wait till the film started rolling.
Sara's debut choice Kedarnath, co-starring Sushant Singh Rajput, has commenced its shoot in the eponymous temple town of north India. The story is believed to revolve around the true-life flash floods in areas close to the Himalayan range. It's being directed by Abhishek Kapoor, whose career-best films so far have been Rock On!! (2008) and Kai Po Che! (2013).
Ananya Pandey
The 19-year-old daughter of Chunky and Bhavna Pandey has graduated from the University of Southern California, and made a splash in November this year at the uber chic fashion event, Le Bal in Paris. For a while, it was conjectured that she would be inducted into show business with a film to be produced by Salman Khan. That wasn't to be.
After an audition, in the presence of Karan Johar in his capacity as the producer and director Punit Malhotra, Ananya has been finalised to share screen space with Tiger Shroff in Student of the Year 2.
And so here's an all-the-best cheer for the new kids on the Bollywood block.