11 exciting things to do in this weekend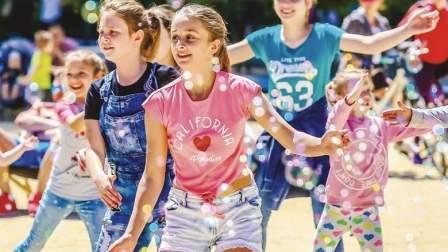 Live music by regional icons, an art exhibition, a FIFA gaming challenge or a Friday brunch, we tell how to pack some fun into your weekend!
Arab icons are here ?
There's something about Arabic music that makes it so infectious! This weekend, why not catch a performance by two of the region's most loved singers - Fouad Abdulwahed and Dalia Mubarak - who will take to the stage at Mirdif City Centre, at 9pm. Sit back and enjoy some songs by these music icons who recently collaborated on the hit single Mamnou. Location: City Centre, Mirdif
Date festival time
Agreed it's long a drive from home, but believe us the trip is worth it! Experience Emirati culture up close at the Liwa Date Festival that's kicking off today. And if you plan on staying overnight, the Tilal Liwa Hotel could be a good option because the leisure resort is perched on the edge of the famed Rub Al Khalil Desert in Abu Dhabi's Empty Quarter.
Roast it!
There's nothing as satisfying and comforting as a roast for dinner. Throw in some buttered veggies and jacket potatoes, and what more can you ask for before another hectic work week! It could be the perfect comfort food. Go to Qwerty at Media One Hotel where the menu features roast beef, lamb and chicken with all its trimmings. They also pamper you with a house beverage.
Summer fun
We are excited over this kids' summer camp. Reason? It keeps the young ones fit and entertained throughout the summer break. The programme incudes Zumba and Hip-Hop dancing, and martial arts like karate and kickboxing. At NRG Fitness, Dubai Marina.
For art's sake
Let's support local talent! Check out Tashkeel's annual summer showcase, Made in Tashkeel, that displays work by more than 30 artists. The exhibition encompasses artwork featuring traditional printmaking, illustrations, photography, jewellery, and videos. And for the first time, Tashkeel is selling laptop bags, aprons, pencil rolls, notebooks and more.
Go for goal
Anyone open for a footie challenge? Head over to Mall of the Emirates this weekend where an online EA Sports FIFA 17 live contest on PlayStation is currently on. The tournaments accommodate a total of 512 players per day so be there early to reserve your place. And if you're up for just a friendly, take a pal along. Online pre-registration is required to play.
Yogi's impressions
We didn't know renowned Yoga guru Bharat Thakur also nurtures artistic ambitions. Now he's presenting his first international solo art exhibition titled Crest and Trough: Breathing Silence that showcases his journeys, and his depictions of the Aghori and Naga babas. The exhibition runs throughout the weekend at DUCTAC.
If it's Friday, it's brunch
We are heading to Irish Village at Al Garhoud tomorrow for their Friday Brunch because on the menu is a delicious three-course meal that also includes beverages! What's more, Drew will be on stage to provide some foot-stomping live music. Think Irish Stew with some Soda Bread.
Make some noise at these clubs this weekend...
Hip Notize!
Head over to the Billionaire Mansion at Taj Hotel tonight for your dose of real Hip-Hop. We can guarantee you that DJs Mr Shef Codes and Kaboo will be playing the most exciting urban music in town! The dress code is smart elegant but we always suggest that you dress to impress.
Good night!
This is exciting! Get yourself to Boa Lounge & Club tonight to welcome Merk & Kremont for the second time in Dubai! This long anticipated night features the next generation DJs and producers from Milan, Italy! We suggest you book in advance!
Legendary Night
This is not to be missed! This Friday be there at Provocateur and get down with Chicago DJ/Producer Derrick Carter who is widely acknowledged as one of the best DJs in the world. Mention his name to any DJ and you'll get the same reaction... respect! Expect some old-school disco, soul, jazz all mixed in with house music.