11 exciting things to do in Dubai this weekend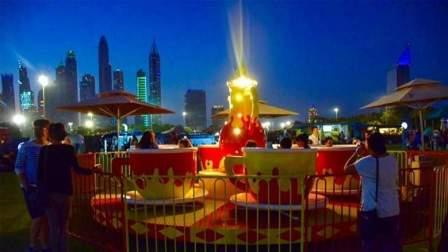 Live music, an art exhibition, a spot of African Salsa (Yes, you can move to African beats too!) or a rib-tickling comedy session, we tell how to pack some fun into your weekend!
Rock hard!
You have to agree that there's no better way to experience music than listen to it live! Check out the five-piece band The Distillers tomorrow. The Dubai-based band will keep you rocking with their high-octane tunes. Their set list includes everything from chilled grooves to Top 40 anthems, rock and pop! Call 04 232 8900
Free Yoga in store
Ladies. Mark your calendar for Saturday for a free, ladies-only yoga session! Natalia Fata will be teaching at Lululemon's store at the City Centre Mirdif, at 8.30am. And you don't have to carry your mat, it will be provided. However, be there early to register and reserve your fave spot. Call 04 288 1248
Anyone for African Salsa?
Here's a fun-filled dance session that constitutes a great workout! Strangely, you have to move to some non-Latin beats - like African rhythms. Now who wouldn't want to try this novel dance method? At Warehouse Four, Al Quoz today. Call 056 440 60 22
Whip it up!
Get your hands dirty by observing, measuring, experimenting and learning how to whip up some great grub. Expand your culinary potential with these workshops, today at INKED, Alserkal Avenue. The workshop covers everything - from how to create the perfect dessert to how to get the most from your topside. Call 050 845 1359
Laugh it out
Time you folks had a good laugh. Stand-ups Ben Norris from BBC's Mock the Week supported by Rich Wilson and Pierre Hollins will tickle you to bits with their witty lines. The Laughter Factory Pop Up Tour is part of a brand new comedy nights concept in town. Head to Millennium Barsha Heights, at 9pm. Call 050 8786 728
Art for you
Get out of your lethargic, laid-back Saturday tendencies and step into the world of art for a change. Eight talented artists from Canada, Germany, Korea, as well as local artists from the UAE, are coming together on Saturday to present some of their fabulous art pieces at an exhibition. At St. Regis Hotel, Habtoor City, Dubai. The best part - entry is absolutely free. Go there!
Paddyman calling
Revellers and music lovers. It's Thursday night. Get out of your work suits and head to Fibber Magee's where there's some fun to be had. This place has some great Irish grub, made with a home-cooked feel, and some stomping-good live music. And if you can play an instrument, be a guest star and jam on stage. Happy hour is extended, that helps make the night fun last longer. At Fibber Magee's, Dubai. Call 04 332 2400
Kids wanna have fun
Your kids will just love it. Head to BurJuman this weekend for some wholesome fun that indulges kids from 3 to 12 years of age. Summer Fun offers free activities from sand play to rock climbing, arts and crafts to bubble blasts every 20 minutes, to keep the young ones busy, and happy!
Make some noise at these clubs this weekend
Spacey music
Kosta Athanassiadis, the man of XDB, will be performing in Dubai's Analog Room tonight! We love his spacey house and techno beats and his style of never drawing too much attention to himself - it's all about his music!
Tuesday tradition
Ok, so who doesn't love Thursdays? We do and we love the NEW XL Dubai! Discover POP Thursday at the NEW XL Dubai! where a new era of entertainment awaits you and your friends with DJ Benyamin, Sam B & Johnny Ciel on the decks!
Aurora feels
Are you ready for Aurora tomorrow night? Taking place inside Zero Gravity, one of our favourite venues in Dubai for a night out, don't miss the resident DJs spin uplifting tunes. It's a great place to entertain your friends, and unwind for the weekend!