10 amazing things to do in UAE today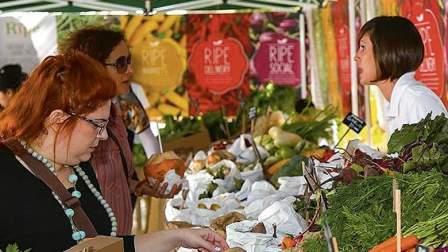 We select some of the best events to make it an exciting week for you. Here are our pick of events to check out this Saturday.
Ripe Market
Our favorite market is indoors at Time Square this summer and we are excited to head over there and rummage through yummy foods, organic produce, natural products and local crafts. There will also be plenty of activities on offer: fun workshops, live music, fitness and yoga classes, educational activities for kids and even a petting zoo are sure to keep the summer interesting.
Read This
Everyone is talking about Matt Haig's latest book How To Stop Time. We have to admit the premise sounds interesting! Tom Hazard may look like an ordinary 41-year-old, but owing to a rare condition, he's been alive for centuries. Tom has seen a lot, and now craves an ordinary life. What will happen? We can't wait to find out!
Plane Maker
Check out this interesting exhibition in Carbon 21 at Alserkal Avenue. Plane Maker is Amba Sayal-Bennett's solo exhibition inspired by the never-ending compositional possibilities of simple geometries and everyday materials and consists of drawings and sculptures that resemble architectural plans and blue prints, but don't refer to any actual object.
Cook in a Truck!
This sounds like so much fun! Be a food truck chef for a day at Truckers Summer Warehouse! You can learn practical skills, discover new recipes, and prepare them inside a food truck. Cooking studio Top Chef will conduct one-hour-long cooking classes featuring efficient and unique teaching concept where students can learn the necessary culinary skills and recipes to cook at home on a daily basis. There are kids and adult sessions!
Watch This
Finally the next Kung Fu Panda movie is here! Continuing his "legendary adventures of awesomeness", Po must face two hugely epic, but different threats: one supernatural and the other a little closer to his home. We can't wait to watch this one
All Eyez on Me
We've heard nothing but good things about this film (despite what Jada Pinkett Smith had to say about it). This is the untold story of one of the greatest rappers of all time. The film about Tupac Shakur, aims to reveal the man behind the legend.
Art Tours
If you want to learn more about the regional art scene here in Dubai then head over to Alserkal Avenue which comprises multiple art galleries, exhibition spaces, studios and dining options, this alternative venue is the go-to place for upcoming, homegrown creative talent. To help you guys explore the neighbourhood, Alserkal Avenue hosts 'Saturday Tours' which are one-hour tours that take you to all the different art galleries!
Interesting Arabic
Project Space Art Jameel hosts its second Collection Focus, featuring Egyptian artist Hazem El Mestikawy. Today is the last day to see The award winning artist's latest work, entitled Alif Beh. The installation comprises 60 elements- 30 of which are Arabic letters. Made out of recycled cardboard, the geometrically sculptured shapes are laid on the floor while others are suspended, and once arranged, forming one unique entity.
Creative Writing
Head to the Literaturhaus at Nadi in Alserkal Avenue to get a few tips from Mariam Al Saedi on creative writing. In this workshop, Mariam will focus on the inner voice of the writer, using the method of addressing five questions - why, how, when, what, and where. The workshop will conclude with participants writing a short paragraph that could be used as the beginning of a short story, followed by a group discussion.
Young Pope
It seems that everyone is talking about Young Pop another hit show from HBO starring Jude Law! The show is about the young and charming, newly elected Pius XIII, aka Lenny Belardo, who is the first American Pope in history.